Squirrel control from £270, including VAT
Pest Control services for Squirrels in London
Although grey squirrels can be 'cute' to look at, they carry diseases and cause significant structural damage. The most common issue we encounter is squirrels nesting in lofts, and once they've decided to call your loft home, it can be challenging to convince them to leave.
Unfortunately, they now see your attic as their territory and will defend it with aggressive behaviours. If you're having issues with squirrels in your home or business, contact us today to discuss the pest control options we have available to control and remove grey squirrels from your property.
24/7 emergency same-day appointments for squirrel control
BPCA and RSPH qualified squirrel removal technicians
Humane dispatch of squirrels
Signs Of Squirrels In Your Property?
Integrum's squirrel pest control process
We're the top squirrel removal company in all of London and the southeast of England and have the British Pest Control Association (BPCA) certified technicians available to help remove squirrels humanely. Can you hear squirrels making noise in your house? Contact us today or visit our DIY guide on how to get rid of squirrels to discuss the different options available to control grey squirrels on your London property. We use a mix of rodenticides and proofing measures to remove grey squirrels and stop them from ever coming back. Furthermore, our knowledgeable team understand rodent (mice and rats) behaviour, giving us the experience to rid your home or business of squirrels.
Contact: If you've spotted signs of rodents such as squirrels on your property, please call, emails or fill in a contact form to discuss your options. We can give friendly advice on preventing squirrels in the meantime until we can arrange a suitable time to visit you.
Survey: More often than not, we can give a price over the phone for controlling squirrels. If this is not available for any reason, we will arrange to visit your property completely free of charge for one of our BPCA or RSPH certified surveyors to complete an inspection.
Treatment: We have different squirrel treatment options available such as rodenticides (poisons) and traps to solve your issue. Squirrel control jobs take three visits in total, as this way we can guarantee that the job has been done to the highest standard and you'll no longer be affected.
Aftercare: As a leading squirrel pest control company, we're confident that we can solve your grey squirrel problem. After we've completed our work, please call us for any information or clearance you need on the job.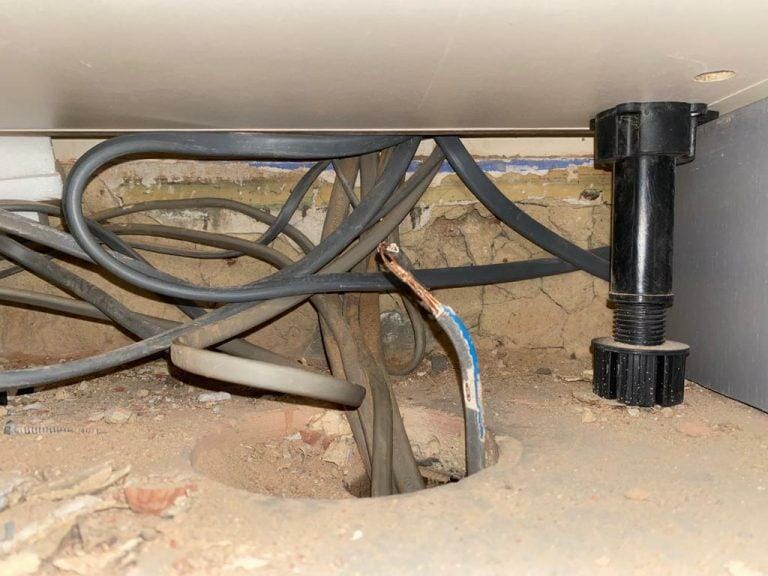 Commercial squirrel control London
Are squirrels damaging your business?
Grey squirrels can cause significant damage to your commercial building or business. This is because they need to gnaw on material such as wood and electrical cables, and the damage can soon become costly. To catch squirrels in your business, we can use a range of different options, such as traps and poisons. However, we seriously recommend against using DIY traps as live squirrels are likely to scratch and bite. Furthermore, it is illegal to release grey squirrels back into the wild once they've been caught, and they must be removed humanely by a professional.
For this reason, if squirrels need removing from your commercial business, we recommend only contacting a professional. Integrum provides 24/7 emergency services for customers that need a fast response to the damage squirrels can cause.
What are the signs of a squirrel pest control issue?
Noise is the first common sign that a squirrel is causing problems in your home. They are often confused with rats and mice as they sound similar, but you should hear a scratching or rustling noise in your loft on a morning or evening.

Next, we recommend putting your head in the attic to search for droppings. You may not be able to tell the difference with which rodent is up there, but ultimately, you'll know there is a problem if you spot them.

Urine is a stench that you can't miss. Squirrels urinate all over lofts and attics when they make a nest up there. So, when you pop your head in to check, the loft will meet you with a strong smell of squirrel urine.

Finally, look around your loft for damage on different materials such as wood, insulation and electrical cables. When building their nest, squirrels will use their sharp teeth to gather for nesting.
When we visit your business or home, we'll conduct a survey to tell you exactly how squirrels gain access through ingress points. Once we're confident we have removed all squirrels from the property with our extermination techniques, we'll start proofing the area by preventing access to your property through rodent proofing techniques. Most of the time, squirrels can be easily proofed out of a room using metal sheets and wire wool. However, sometimes the problem can be more profound and require us to give an external quote for squirrel proofing. Don't worry; this will all be explained on your survey or when you call us.
If you'd like to learn more about our squirrel removal in London, contact a member of our team for a friendly discussion.
Choose The Integrum Way
Squirrels Frequently Asked Questions
How much should squirrel removal cost?

All our domestic squirrel removal services in London cost as little as £270, including VAT, and take approximately three visits.

Can pest control get rid of squirrels?

Yes, grey squirrels should only be removed from your property by a professional pest control company. These rodents have been known to bite and scratch when untrained professionals use DIY traps and solutions. Furthermore, we must make you aware that it is illegal to release grey squirrels back into the wild once caught. On the contrary, if your issue is red squirrels, pest control can help, but you must release red squirrels back into the wild.