Expert Squirrel Control Services in London
Grey squirrels might be cute to look at when they're climbing trees in the park; however, they hide some serious dangers. Squirrels carry various diseases that cause a significant health risk to you and your loved ones. In addition, if you're unfortunate enough to have them nesting in your property, they will also cause substantial structural damage. 
24/7 emergency same-day appointments for squirrel control

BPCA and RSPH qualified squirrel removal technicians

Humane dispatch of squirrels

Free quotes for domestic and commercial properties

Over 70 years of pest control experience

Family-run & industry-leading
If you're having trouble with squirrels, then you require our squirrel control services. Contact us using the link below or our live chat for a free guaranteed squirrel removal quote.
Signs Of Squirrels In Your Property?
Integrum's Squirrel Control Process
We're the best squirrel removal company in all of London and the South East of England. Our team of pest controllers are all BPCA (British Pest Control Association) certified, with over 70 years of experience in the industry between them. We offer humane services to rid your home of squirrels and afterwards provide proofing to ensure all rodents no longer have an entry point into your property. View our process below:
Contact: 

If you have

 

noticed squirrels on your London property, then time is of the essence. Contact us, your local squirrel control professionals, as soon as possible to minimise the damage caused and risks to your loved ones. Call, email, or fill in our contact form now.

Survey:

We offer free quotes for our squirrel control services. However, some cases may be more complex and require a survey to assess the infestation further. Call now on 0208 914 7894 or open our live chat

to discuss your squirrel problem with our friendly team.

Treatment: 

We know from our years of experience that every case is unique, which is why we offer pest control services tailored to your specific problem. Using a combination of rodenticides, traps and proofing methods, we will safely remove your squirrel infestation.

Aftercare: 

Our squirrel control services include three visits to your property to ensure the problem is solved and your home is squirrel-proof.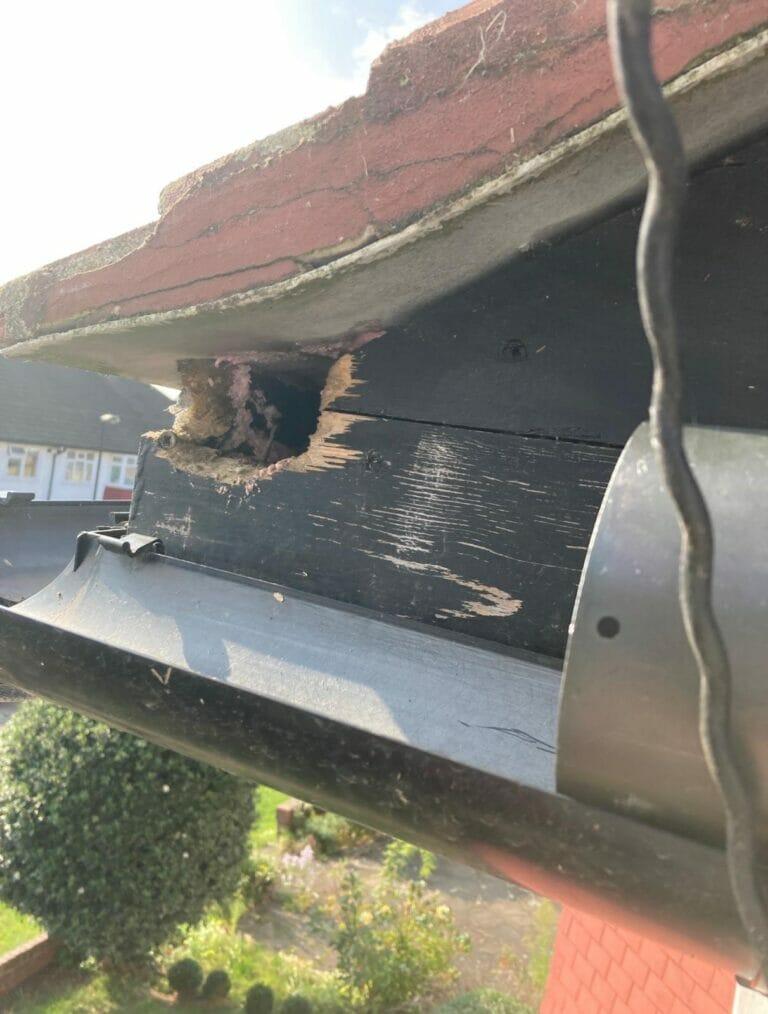 Signs of a Squirrel Infestation
Squirrels are known to enter properties via tiny entry points, particularly when the temperatures drop in autumn and winter. Once a squirrel has decided to call your loft home, it can be challenging to get them to leave. They will, unfortunately, become territorial and will defend their new 'home' with aggressive behaviours. Check out our list of signs to look out for below:
Noise

 – listen out for scratching and rustling noises in your loft during the early morning and evening when squirrels are most active. 

Droppings

 – as with all rodents, droppings are a telltale sign of an infestation. Keep an eye out for droppings in your loft space, as this is the most common area of the home for squirrels to nest. 

Urine

 – The unmistakable smell of urine is another sign that you may have a squirrel infestation on your property. Squirrels are territorial and will mark their new home with their scent.

Gnawing marks

– Squirrels are, in fact, rodents

, which means they also have the ongoing need to grind down their front teeth. Be on the lookout for teeth marks on wooden beams, wires, and storage boxes, as this is another guaranteed sign of a rodent infestation.
Commercial Squirrel Control London
Squirrels look for warmth, shelter and food when making their nests. But, unfortunately, they cannot differentiate between houses and commercial businesses. Any pest control issue can damage your reputation if left untreated, which is why we offer emergency, discreet squirrel control services across London and the South East of England. 
If you've noticed signs of squirrels on your commercial London property, please leave it to the professionals and call us today on 0208 914 7894 for a free quote.
Squirrels Frequently Asked Questions
Can I kill squirrels on my property?

Although grey squirrels are not a protected species, you should avoid killing them on your property. The law states that it is legal to kill grey squirrels; however, you must do it humanely. Generally, most people cannot carry out the task correctly, and according to the Wildlife Act 2006, it is against the law to cause unnecessary suffering to an animal. However, there have been cases of fines for people who have attempted it and failed to do so humanely. Therefore, if you have seen signs of squirrels on your property, protect yourself and leave it to the professionals.


What can I do if I catch a squirrel?

If you have managed to capture a grey squirrel alive successfully, you must not release it - you are legally obliged to dispatch it humanely. It is against the law to free a grey squirrel back into the wild if caught as per the Wildlife and Countryside Act 1981 and Invasive Alien Species (Enforcement and Permitting) Order 2019.


What can I do about red squirrels on my property?

It is unlikely that the squirrels causing you problems are the red variety as they are an endangered species. Red squirrels are protected under the UK Wildlife & Countryside Act 1981. It is an offence to kill, injure, or capture a red squirrel under the Nature Conservation Act 2004.


How much should squirrel removal cost?

All our domestic squirrel removal services in London cost as little as £270, including VAT, and take approximately three visits.

Can pest control get rid of squirrels?

Yes, grey squirrels should only be removed from your property by a professional pest control company. These rodents have been known to bite and scratch when untrained professionals use DIY traps and solutions. Furthermore, we must make you aware that releasing grey squirrels back into the wild once caught is illegal. On the contrary, if your issue is red squirrels, pest control can help, but you must release red squirrels back into the wild.

How can I tell if I have rats or squirrels in my loft?

Many of the rat issues we visit are, in fact, squirrels. It is common to get the two rodents confused as the signs indicating their presence are very similar. If in doubt, it is always best to get the opinion of a pest control expert. Through years of experience, we can differentiate between the two pests instantly.