Speak to a pest control expert
Professional Mole Control Services in London
Moles are surprisingly destructive animals. While they may look harmless, they can cause irreversible damage to your land and kill off plants and shrubs, all whilst leaving behind endless piles of loose soil.
To keep your land safe from the threat of moles, you need mole control services from a professional pest control company like Integrum. We are proud to offer the following:
Over 70 years of experience in the pest control industry
24/7 emergency, same-day appointments available
Humane dispatch and control solutions
Free quotes for both domestic and commercial properties
Fully qualified BPCA and RSPH technicians
Industry-leading innovations to solve your pest problem
If you're fed up with the piles of mud all over your lawn, then you require our mole control services today. Simply contact us using the link below, or use our live chat to speak to a friendly member of the team and get a free quote with no obligations.
Signs of Moles on your land?
Integrum's Mole Control Process
Here at Integrum, we have helped many homeowners to clear their gardens of pesky moles for good. When you've spent time and money on your garden, the last thing you want is piles of dirt popping up in the middle of your freshly mowed lawn every day.
Integrum is the best mole removal company in London and the South East of England. Our team of pest controllers are all BPCA (British Pest Control Association) certified, with over 70 years of experience in the industry between them.
Using humane services, we will rid your property of moles before proofing the land to ensure the pests cannot return. View our process below:
Contact: If you have noticed moles on your land, then it's time to utilise the services of pest control experts. Contact us, your local mole control professionals, as soon as possible to minimise the damage caused to your outdoor spaces. Call, email, or fill in our contact form now.
Survey: We offer free quotes for all of our control services. Please note some cases may require a survey to discover the true extent of the infestation. Call now on 0204 566 5522 or open our live chat to discuss your mole problem with our friendly team.
Treatment: Every infestation is different, especially when it comes to moles. This is why we offer mole control methods tailored to each specific problem. Integrum will safely remove your mole infestation using the most appropriate and cost-effective way for your situation.
Aftercare: We will return to the problem area to ensure all moles have been removed before proofing the area using innovative solutions so your mole problem cannot return.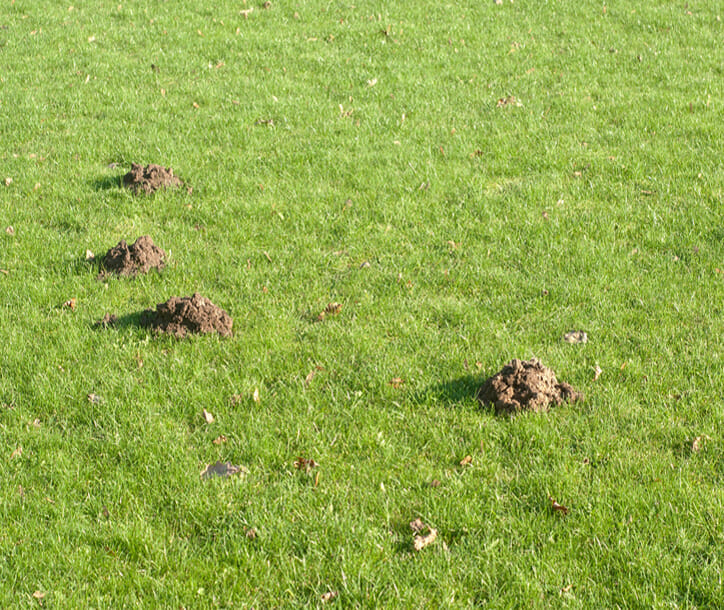 Signs of a Mole Infestation
Despite popular opinion, moles are in fact not classed as rodents – however, they are definitely still pests. They live underground and are constantly on the hunt for worms and other insects as they must eat almost half their body weight every day in order to survive. 
It's rather uncommon to spot a mole with your own eyes, as they spend most of their time deep underground either expanding their tunnel systems or hunting for insects. Because of this, you will have to rely on the following signs in order to identify their presence:
Molehills – The most obvious sign of a mole infestation are molehills. If they are struggling to find food underground, moles will dig holes towards the surface where the soil usually has more moisture in the hopes of trapping more insects for their next meal. Look out for fresh mounds of soil around your garden.
Uneven Ground – As well as the more obvious molehills, uneven ground can also suggest the presence of moles on your property. As they tunnel through the earth below, the surface can become affected, so watch your step and keep an eye out for raised or lowered areas of grass.
Dead Plants – While your plants could be struggling for a number of reasons, it could be caused by moles digging below the ground. As they dig their complex tunnel systems they can easily disturb roots of plants, shrubs and trees. Once the roots are disturbed the plants can no longer receive their necessary nutrients and will begin to die.
Commercial Mole Control London
It's not just domestic gardens at risk of mole infestations. Commercial premises are also affected by these pests and the damage they cause. Not only will it cost you money to fix, but it could also damage the reputation of your business if left untreated.
We know how important reputation is for companies in the capital, which is why we offer discreet solutions and emergency appointments for all.
If you've noticed any of the above signs on your commercial premises in London or the South East of England, call us today on 0204 566 5522 for a free quote.
Frequently Asked Questions
How can I deter moles from my garden?

You can do several things to prevent moles from targeting your land. First, avoid watering your grass too often as this increases the availability of the mole's primary food source - worms. You can also purchase repellants from most hardware stores or try planting daffodils and marigolds, as these are known to be toxic to moles.

How do you get rid of moles?

The primary method for getting rid of a mole infestation is trapping. However, each scenario is unique, and other methods like gassing may be used, depending on the environment.

When are moles most active?

Moles are most active at times of the day when the soil is moister, i.e. the early morning and the evening when the dew settles on the grass. You may also see them after heavy rain as they attempt to catch their next meal.