Mice control London
Fast and effective mouse control in London
As a leading mice control company in London, and all the southeast, we're on hand to control any size mouse problem you may have. We can protect your home and business from mice with our effective treatments. So, why is it urgent to take control of a mouse infestation?
Diseases:

 mice are known to spread a range of nasty diseases such as salmonella and listeria. They carry these diseases through their urine and droppings.

Damage:

nuisance mice can cause significant damage to your property. No matter if it's your home or business, you must act straight away to stop damage to your property.
All our pest control technicians are British Pest Control Association qualified and trained to the highest level to guarantee the best possible mice pest control service in London.
Signs Of Mice In Your Property?
Mouse control treatment London
Integrum's Mouse infestation treatment
As mentioned previously, it's essential to get rid of mice quickly; they are highly adaptable, highly mobile and breed rapidly.
We invest heavily in our staff to make sure they have the highest mouse pest control qualifications available. We do not recommend to try and remove mice yourself, as it can be a challenging task for anyone untrained. Our mouse infestation process follows the following procedure:
Contact: The first step to control your mouse problem is to arrange for our local team to contact you. We'll chat on the phone and give you expert advice and guidance.
Survey: We will discuss your mouse problem and arrange a free survey of your home if necessary. You'll receive a quote and some recommendations to solve your mouse problem.
Treatment: A BPCA qualified pest control technician will visit your property to provide you with our mice pest control treatment. We usually visit your property three times to make sure the problem is completely eradicated.
Aftercare: Once we've completed the treatment, we'll arrange to revisit your home to ensure the problem has been solved. You'll have peace of mind that your mouse problem will be solved for good.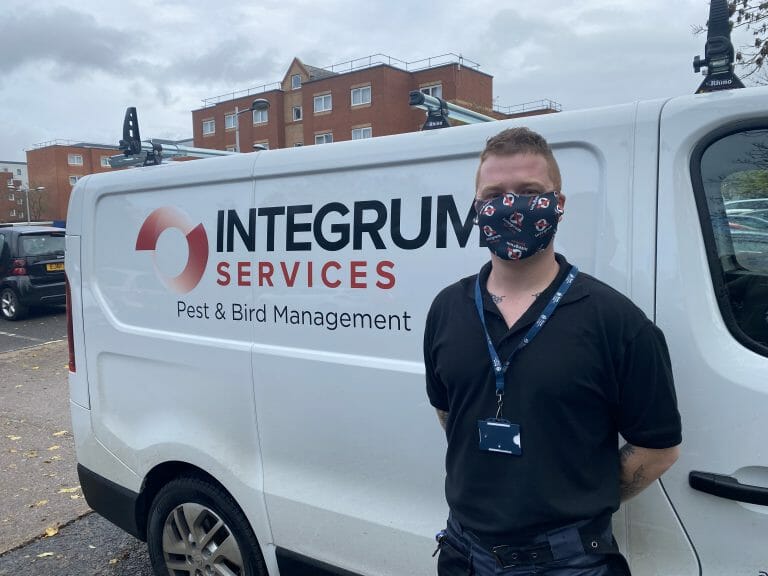 Commercial pest control for mice
Mouse control for businesses
Have you noticed a mouse problem at your business premises? We have a fantastic group of BPCA certified technicians ready to help protect you against the damage mice could cause. If you have noticed damage to your property through droppings, gnawed stock or even the strong smell of urine, you need mice control in London or the south-east – contact us straight away.
Together, we have over 70 years of combined pest experience, making us real experts in the field of pest control for mice. Furthermore, we've worked with all types of industries, ranging from hospitality, food processing, hotels, offices, construction sites and more. Our experience does the talking, and our innovative solutions for controlling mice in any setting means we can tailor our strategy to suit.
Choose The Integrum Way
Mice Frequently Asked Questions
How long do mice live?

Mice tend to have a lifespan of around 18 months.


How do pest control get rid of mice?

Our mice pest control treatments in London consist of three visits to ensure that all mice are removed from your property. We use various techniques to get rid of mice, including poisons, traps and pest proofing with wire wool and mesh.

How much is pest control for mice?

Our mouse treatments in London can range in price depending on the treatment and level of the mouse infestation. All our domestic mice pest control services start at £228.00, including VAT.

Can I get sick from having mice in my home?

Yes, mice carry with them diseases and germs which they spread in their urine, droppings and bedding.

How to get rid of mice in your home?

Have you noticed signs of mice in your home? We understand that it can be scary for all who live on the property, as the health risks are a real concern. If you've never come across a mouse infestation before, it is unlikely that you will know what the next steps are. We recommend contacting our professional mice control team for an effective and fast service. Alternatively, please read our guide on how to get rid of mice in the house.