Speak to a pest control expert
Professional Mice Removal Services
Mice are common pests in London, entering homes in search of safe shelter and reliable food and water sources. Unfortunately, as they navigate your property, they leave behind urine and droppings, contaminating surfaces and spreading potentially life-threatening diseases. This relentless behaviour disrupts your life and severely impacts the safety of your family and pets.
At Integrum, we understand the risks, damage and diseases associated with mice. We are the leading pest control company in London and the South East, so we can deliver guaranteed results that will restore the safety of your home. Our thorough service will identify the severity of your issue and tackle the infestation with tried and tested mice pest control methods.
24/7 Emergency and Same-Day Appointments for Mice Control
RSPH-Qualified in Mice Removal
Free Quotes for Domestic and Commercial Pest Control
70+ Years Experience
Family-Run Business With Technicians across London
Signs Of Mice In Your Property?
How Our Mice Removal Treatments Work
If mice have infested your home, you must act quickly. Mice breed exponentially, and a small infestation can spiral out of control in just a few weeks.
Pest Identification: When our technicians visit your home, they inspect for ingress points and harbourage locations. The most common area for mice nests is in your loft insulation, as it provides warmth and safety. During this inspection, we will devise a bespoke treatment plan and quote to control the infestation effectively.

Pest Extermination: Our mice extermination process uses specialist traps and poisons (rodenticides), unavailable to the general public. Our operatives are experienced and understand pest behaviour; therefore, traps are strategically placed for maximum effectiveness. This innovative combination of treatments ensures that every mouse is removed from your home.

Follow Up: Typically, rodent infestations require three visits to guarantee success. However, if your home or infestation is large, you may need additional visits, which is made clear during your initial site survey and quote.

Aftercare: To protect your property from a future re-infestation, our expert technicians will provide expert advice and guidance on keeping your home pest-free. This can include storing food safely and adequately managing waste. We can also organise a disinfection service to remove mouse urine, droppings, disease and contamination risk.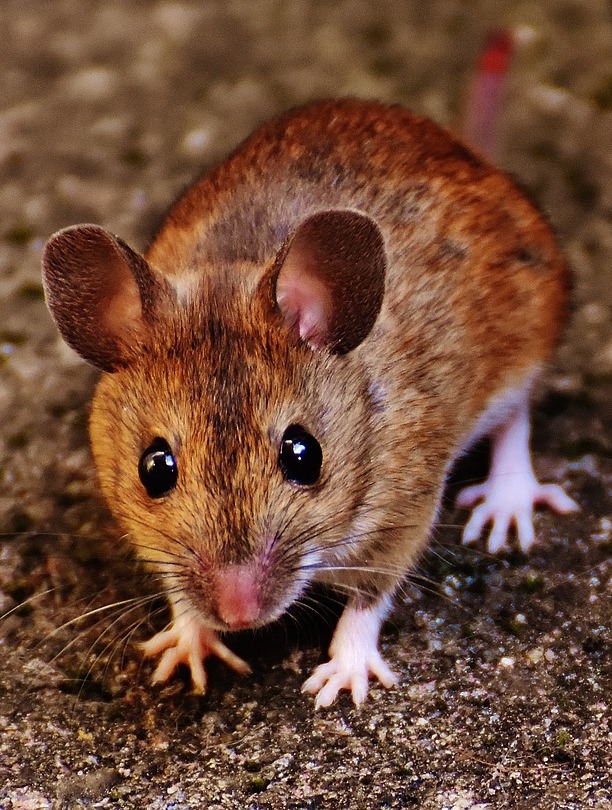 Signs Of A Mouse Infestation In Your London Home
Mice commonly enter buildings through holes as small as 10mm and nest in hard-to-reach places, making it difficult for homeowners to identify a pest problem. Early detection is critical in protecting your home, so here are some of the most common signs to look out for:
Droppings: Look for small, black, rod-shaped droppings in dark areas around your home, such as under the sink, in the back of cupboards, around skirting boards and in the loft. Mice can leave up to around 80 droppings a day, so expect to see a lot of them.
Grease Marks: Due to the high levels of oil in their fur, mice leave behind dark grey marks on walls and surfaces.
Nests: Mice will use any loose materials they can find to create their nests, including strips of fabric, sticks and cardboard. Check quiet, undisturbed areas like the loft, under floorboards, and airing cupboards for these nests.
Gnaw Marks: Mice are rodents who suffer from open-rooted dentation that requires constant chewing to keep their teeth healthy. Look for gnaw marks on food packaging, carpets, electrical cables and wooden furniture.
Illness: Unfortunately, Mice pose serious health risks to humans as they carry around 30+ transferable diseases. Their droppings and frequent need to urinate can contaminate your food. If you notice increased levels of sickness in your household, there is a high chance that you have a mouse infestation.
If you identify any of these signs in your home, contact us immediately at 0204 566 5522.
Commercial Pest Control for Mice Extermination
Mice infestations are a disaster for businesses as the health and safety risks associated with pests are massive. In addition, mice are destructive creatures, gnawing through electrical cables, woodwork, plastic and furnishings. Therefore, an unresolved infestation could lead to costly repairs, irreparable damages and disease risk for employees and customers.
Pest infestations in a commercial business should be handled strategically and quickly. That's why we provide a discreet service to maintain your business's reputation. We are also available 24/7 for emergency call-outs to eradicate the pest problem, proof your property and prevent future pest access.
In our 70+ years of experience, we have worked with various industries, including hospitality, food processing, hotels, offices, construction sites, healthcare, etc. As a result, our experience does the talking, and we promise to deliver long-lasting, reliable and efficient results. To book your commercial mice control in London treatment, call us today at 0204 566 5522.
How quickly do mice reproduce?

House mice reproduce at an alarming rate, and a small mouse problem can develop into a severe infestation in just a few weeks. Their gestating period is around 20 days, meaning mice can give birth 5-10 times yearly. With 6-8 young per litter, it is clear to see the urgency in dealing with a mouse pest control problem in London. 

How does pest control get rid of mice?

Our mice pest control treatments in London consist of three visits to guarantee the complete eradication of mice and other potential pests. The techniques we employ to eliminate mice include poisons, traps, baiting and pest-proofing with wire wool and mesh. To book your local and trusted mice exterminator, call Integrum at 0204 566 5522. 

How much is pest control for mice?

The price to get rid of mice can vary depending on the level of the infestation, the size of your home and if extensive proofing services are required. Typically, our domestic mice treatment starts at £228.00, including VAT. Contact our friendly team using our WhatsApp chat feature to receive your quote. 

Can I get sick from having mice in my home?

Yes, mice carry diseases and germs, which they spread in their urine, droppings and nests. These pathogens are transmitted if a mouse urinates and defecates on food and preparation surfaces or via ticks and fleas in their fur. Some diseases spread by mice include HPS, Leptospirosis, Lymphocytic Choriomeningitis, Plague, and Typhus. Thus, contacting a professional pest controller at the first sign of mouse droppings or property damage is integral to minimise potential health risks.

Is it normal to have mice in London?

As London is such a vast city with many interconnected homes, it is unsurprising that mice are a common problem. You may feel dirty if you have a mice infestation, but that is not always the case. Mice are crafty and can easily migrate into your home if there is an ingress point for them to take advantage of.

Do you provide mouse proofing?

It is essential that your home is protected to prevent mice from entering in the future. As part of our mice pest control services, we provide basic pest-proofing on your property. However, more advanced protection is required in some cases, which will be clarified during your initial site survey. 

What is the difference between rats and mice?

Unlike rats, mice are much smaller in size and more curious when it comes to traps and poison. For more information, read our extensive guide on the differences between rats and mice.

How do I prevent mice?

To effectively prevent mice from entering your property, it is crucial to seal off all gaps and entry points. Moreover, DIY mouse control can help deter future pests from trying to gain entry into your home. This includes correct food storage and waste management and eliminating clutter in and around your building.