Speak to a pest control expert
Expert Cockroach Pest Control Services
If you have noticed cockroaches in your home or business, you must act immediately – especially if you're in the food production industry. Cockroaches are highly infectious insects and can carry many diseases, including salmonella and dysentery.
Although cockroaches are classed as nocturnal insects, you will see them during the day if your infestation is particularly large. Roaches are very versatile creatures and can live in many different conditions. Furthermore, it is common to find them behind your fridge, dark cupboards, narrow cracks in your home, and under your sink. They use the night to search for food; therefore, it is essential to maintain a clean house to keep these pests away.
If you want advice on how to get rid of cockroaches, speak to an expert at Integrum for more information. Call us today for cockroach control in London at 0204 566 5522 or email the team at [email protected].
Free, no-obligation quotes for domestic and commercial properties
Emergency 24/7 cockroach treatment services
Same-day response
BPCA & RSPH certified
Over 70 years of experience
Did you know? If you suffer from Asthma or Ezcema, cockroach skin and faeces are common triggers that can result in flare-ups. Young children and the elderly tend to react far worse than the average adult. Therefore, if you have a family member susceptible to reactions, it is crucial to limit the exposure and exterminate these insects quickly!
Noticed Cockroaches On Your Property?
Cockroach Pest Control Treatment Process
If you have identified a cockroach infestation in your home or business, we recommend contacting a professional pest control company to carry out the work. Unfortunately, cockroaches can spread many nasty diseases, so controlling the infestation yourself can be tricky. DIY methods such as glue traps and bait stations can make a slight difference; however, they are basic and will only work on a small number of roaches. If your pest problem is significant, DIY solutions will not prove helpful.
At Integrum, we have access to professional high-grade insecticides to exterminate cockroaches effectively. Our cockroach pest control service includes the following;
Contact. Call our helpful team on 0204 566 5522 for friendly advice and professional guidance.
Survey: Once we have discussed your Cockroach problem, we can give you a guaranteed price over the phone. If more information is needed, we will arrange a free survey of your property.
Treatment: Our BPCA-qualified technicians will visit your home or business. The first step of our process is deploying insecticides to all affected areas. We take particular care to identify all cracks and crevices to ensure every egg and nymph is removed. As professional cockroach exterminators, our treatments usually require two visits to residential and commercial premises to deal with all pests and eggs.
Aftercare: We will use sticky traps to monitor cockroach infestations, and these traps provide peace of mind that your cockroach problem will not return in the future. We will also issue feedback on keeping your property free from cockroaches.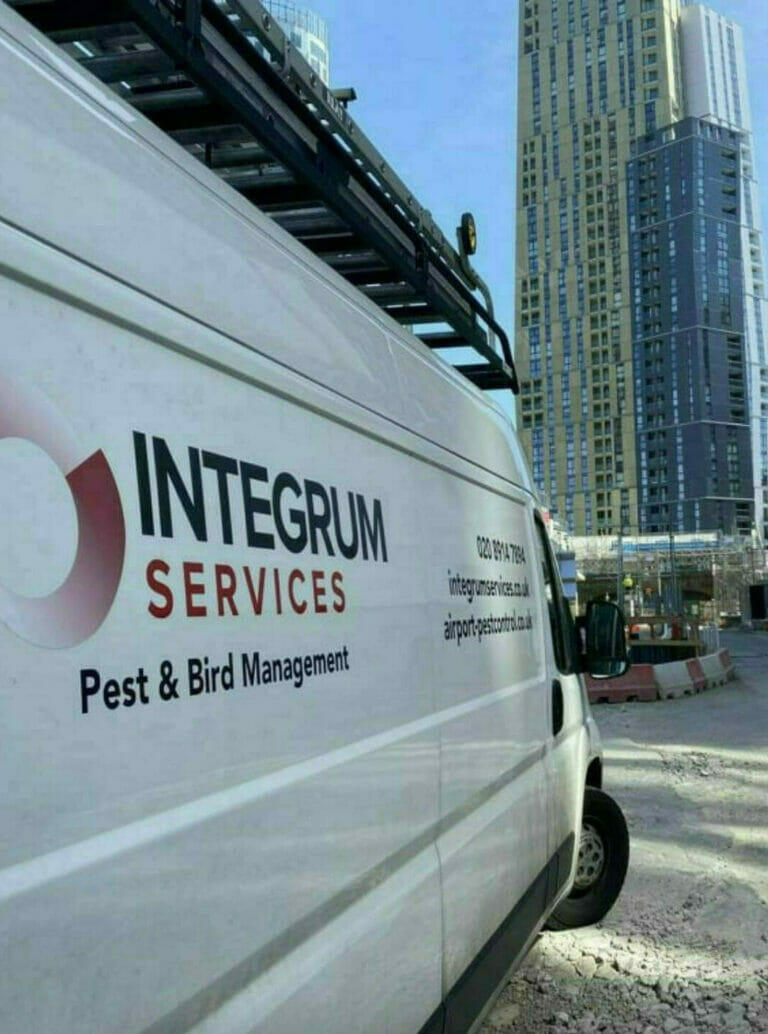 Integrum's Cockroach Removal and extermination Service 
It is imperative to control your pest infestation as soon as you notice even a single cockroach. Identifying just one cockroach signifies that you have a much larger issue, as they are generally nocturnal and will try to keep out of the way. Furthermore, cockroaches can live between 6-12 months and breed extremely quickly. Therefore, roaches mature in just ten weeks, and a single cockroach can produce an egg capsule containing up to 40 eggs. Unfortunately, this can result in a much larger infestation if you leave cockroaches untreated.
Cockroaches are known as one of nature's more enduring insects due to their physical adaptions and behaviours. In addition, these pests can affect your health, damage your home and result in costly repair bills. At Integrum, we cater to both residential and commercial properties to eliminate this pest for good.
Commercial Cockroach Control Services 
Finding cockroaches in your business can be a very serious concern. Pests can threaten your reputation and legal compliance, especially in the food production or hospitality industry. In addition, the dangers of a cockroach infestation can result in costly repairs and contaminated foodstuffs as they leave behind faeces, skin and empty eggshells.
Integrum's cockroach pest control services offer bespoke and discreet treatments to provide a safe environment for your employees. In addition, our BPCA-certified technicians will provide a professional, first-class service to ensure these pests do not return in the future.
For successful commercial pest control in London and the South East, call us today at 0204 566 5522.
Cockroach Frequently Asked Questions
Are there cockroaches in the UK? 

Yes, cockroaches are common in the UK. Due to the colder weather in the UK, cockroaches tend to live inside properties for shelter. There are over 3,000 species of cockroaches, and they can all be a nuisance without effective pest control. 

What does a cockroach look like?

Cockroaches can vary from species to species, but generally, they have an oval-shaped body with two antennae. They can be very oily to the touch and mostly a variation of brown or black.  

What attracts cockroaches?

Cockroaches are attracted to homes or businesses that provide food, water and shelter. Unfortunately, you have a higher chance of a cockroach infestation if you have a dirtier home, such as food on the floors or counters, excess moisture, rubbish left out, dirty dishes and lots of clutter. Also, a greasy worktop or left-out pet food can be an attractive invitation for a roach. 

What are the signs that I have a cockroach infestation?

The three main signs you have a cockroach infestation are: 




Sight. The most apparent indication of a pest problem is seeing a cockroach running around your home.


Smell. Cockroaches have a very unpleasant, distinct and sour aroma that they leave behind on objects.


Droppings. Cockroaches can produce a massive amount of faeces. Roach droppings look like specks of coffee, dark rice or pepper.



How do you get rid of cockroaches in the UK? 

Although DIY methods are available, the most effective solution is to call in professionals. At Integrum, our highly skilled technicians can eradicate your cockroach infestation efficiently and safely. Our method of choice is a highly successful insecticide for all affected areas of your property. 

How much is pest control for Cockroaches in London? 

Our cockroach pest control service in London can vary in price depending on your infestation and property size. However, our domestic roach treatments start from £192, including VAT. If you require professional pest control, call us today at 0204 566 5522.