Professional Flea Control Services
You may have discovered fleas in and around the home. It could be because of a multitude of reasons. More often than not, they can usually be tracked down to pets; however, if you do not own pets, they could have been in your home since the previous owner.
Integrum Services offer professional flea pest control in London, the South-East and its surrounding areas. We have many British Pest Control Association (BPCA) technicians in your location that can advise you on how to get rid of fleas. We offer emergency and fast response treatments for flea infestations.
Book a Flea Control Treatment Today
Our Flea Control Process
Have you noticed a flea infestation in your home or business? We strongly recommend you contact a professional pest control flea company. We're an official member of the BPCA and have trained professionals with experience in flea control. Furthermore, we have access to professional insecticides that are not available to the public.
Contact: Choose a professional pest control company to complete your flea control treatment. You can contact us in several ways, which is ever is more convenient for you, call us on 0208 914 7894, email us at

[email protected]

or fill in one of the contact forms on our website.
Survey: More often than not, we can give you a quote over the phone for your professional flea treatment. If this is unavailable, we will arrange a time suitable for you to complete a free of charge survey.
Treatment: Once your treatment is booked, we will hoover all areas to help remove any debris, eggs, larvae and adult fleas. We do this before our insecticide treatment to stimulate the adults to hatch from their cocoon stage. The standard flea treatment for an infested premises includes using residual insecticide, either as a liquid spray or powder. Our technicians will discuss before the treatment, which is the most suitable and safest for your home or business.
Aftercare: Once the treatment is complete, we ask that you do not need hoover or wash for at least two weeks (longer if possible). The reason for this is because the insecticide will be at risk of failing. We're on hand after the treatment and will return to your property as many times as required to ensure the flea treatment is effective.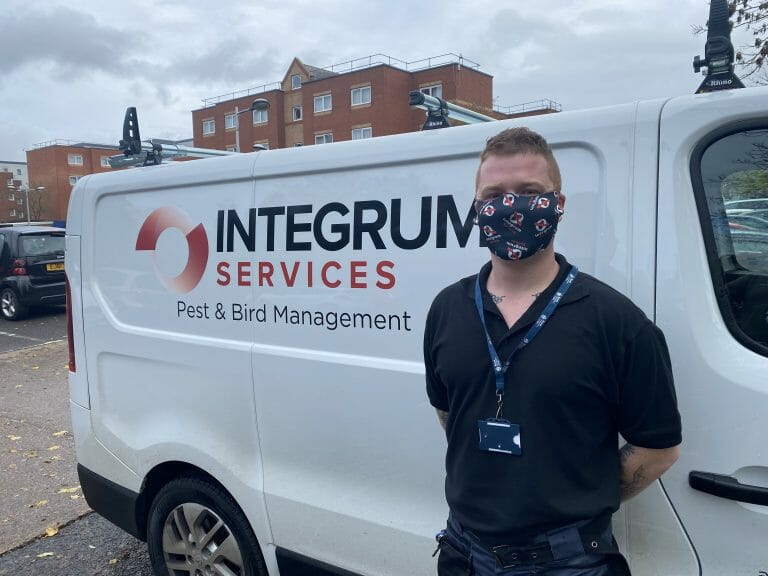 Commercial Flea Control Services
Fleas in your businesses can seriously damage your reputation and eventually, revenue. Your business will be very unpopular with customers and staff if word gets our of a flea infestation, and they will more than likely stay away. By contacting Integrum to solve your businesses flea problem, you can be assured that it will be dealt with at a top priority. After all, we have a wealth of experience reducing risk for small, large and enterprise businesses around the UK.
A flea infestation can multiply rapidly through your business if left untreated, eventually leading to business closure while the problem is solved. So, if your businesses reputation is at risk from a flea infestation, arrange for our BPCA certified surveyors to visit your site for a thorough inspection. We'll recommend the best course of action and put together a strategic plan and price to rid your business of fleas for good.
Fleas Frequently Asked Questions
How do you get rid of fleas professionally?

Professional pest control companies like ourselves use insecticide spray or fumigation techniques as well as heat treatments. Both are extremely effective and offer eradication in just one visit alone. Although we strongly recommended not to hoover or clean after the treatment for two weeks, it gives the remaining dormant fleas time to come out and the eggs to hatch.


What is the main cause of fleas?

The most common cause of a flea infestation is from your pets. However, fleas can jump from one pet to another, from furry animals (rabbits, mice, livestock) or vegetation.

How much is pest control for fleas?

Flea infestation treatments in London vary depending on the number of infected rooms and the severity of the problem. However, all our domestic flea treatments start at £156, including VAT. Additional rooms start at £18, including VAT.