Speak to a pest control expert
Guaranteed Solar Panel Bird Proofing Services From The Experts
As fantastic as solar panels are, installers often forget to tell you about the warm, safe harbourage you have created for birds, primarily feral pigeons.
Unfortunately, once pigeons have identified this and made a home under yours, they are unlikely to move on without bird-proofing the solar panels. It might sound cute, but pigeons can make solar panels less efficient by nesting under them. Also, they can be noisy and create a health hazard thanks to their guano (droppings).
Integrum is the UK's #1 solar panel pest control company. Over the years, we've carried out thousands of pigeon-proofing solar panel jobs. Our focus is on providing a top-quality service that removes pigeons safely and keeps them away. We offer:
15-year guarantee that birds will not return
Get the job done right the first time around
Lawful removal and advice surrounding bird exclusion
The highest quality mesh, which will not damage your panel's warranty
Fully accredited with the BPCA, Checkatrade, CHAS, Safe Contractor and Construction line
ISO 9001:2015 certified
Are Birds Nesting Under Your Solar Panels?
Working on the roof of your property requires proper health and safety precautions. It's not enough to just grab a ladder and get up there: you need to make sure anyone working on your roof understands how to stay safe and get the job done efficiently.

Every member of our pigeon proofing team is qualified to work at height. We mainly use scaffolding to access the panels, as this is the safest option for both our staff and your property, although sometimes we will use Mobile Elevated Platforms (cherry pickers). All of our technicians are qualified to work on both scaffolding and cherry pickers, so they can safely and quickly do the job to the highest possible standard.

As a pioneer in pigeon proofing solar panels, we have explored all the options and found scaffolding offers the best protection for our team and your property. Another benefit of using scaffolding is that it allows us to fully clean under the panels and remove them if required to get full access.
Achieving the best results possible is our aim, which is why we only use the highest quality stainless steel mesh to proof your solar panels. Our proven pigeon proofing process involves placing 25mm galvanised steel mesh around the sides of your solar panels to stop pesky birds for good.

We recommend you choose our non-intrusive solar panel mesh clips to fix the solar panel mesh in place. However, we are open to using alternative methods when asked.

Our industry-leading experts have extensive experience in bird and pest control, which means that we can obtain equipment from the best suppliers who offer only the finest quality materials for pigeon proofing your solar panels.
Integrum's solar panel bird proofing team are fully qualified British Pest Control Association (BPCA) members. Furthermore, we have many years of experience dealing with various pest and bird-related issues.

We are also Checkatrade, Chas and EN 16636 Accredited, ISO 9001:2015 Certified, Safe Contractor Accredited and Construction Line Gold Members.

Moreover, unlike most, we are entirely licensed by Natural England for the control of feral pigeons and fully insured, with all certificates available on request. So, you can rest assured you'll get the best possible service when you work with Integrum to get your solar panels pigeon proofed.
All our pigeon-proofing solar panel jobs come with a 15-year guarantee. Why are we so confident? Our specialist 25mm x 25mm pigeon solar panel mesh comes galvanised as standard in gauge 16 to ensure longevity and strength. Furthermore, it's pre-cut to suit the height of a typical solar panel array for the perfect fit. Therefore, the mesh we use is the best on the market, as it stands the test of time and is made solely for bird-proofing solar panels.

The clips we use to fix the mesh to the solar panels are non-intrusive, hooking under the base of the solar panels. We also hold the mesh in place using a retaining nut and washer. In addition, we obtain all our materials in bulk directly from the manufacturer, meaning our costs are far more competitive than our competition, giving you value as well as quality.

That's why we offer a 15-year guarantee: because we are confident in the success of our bird-proofing products and installation techniques.
Customer reviews
Birds are no match for our 15-year solar panel proofing guarantee!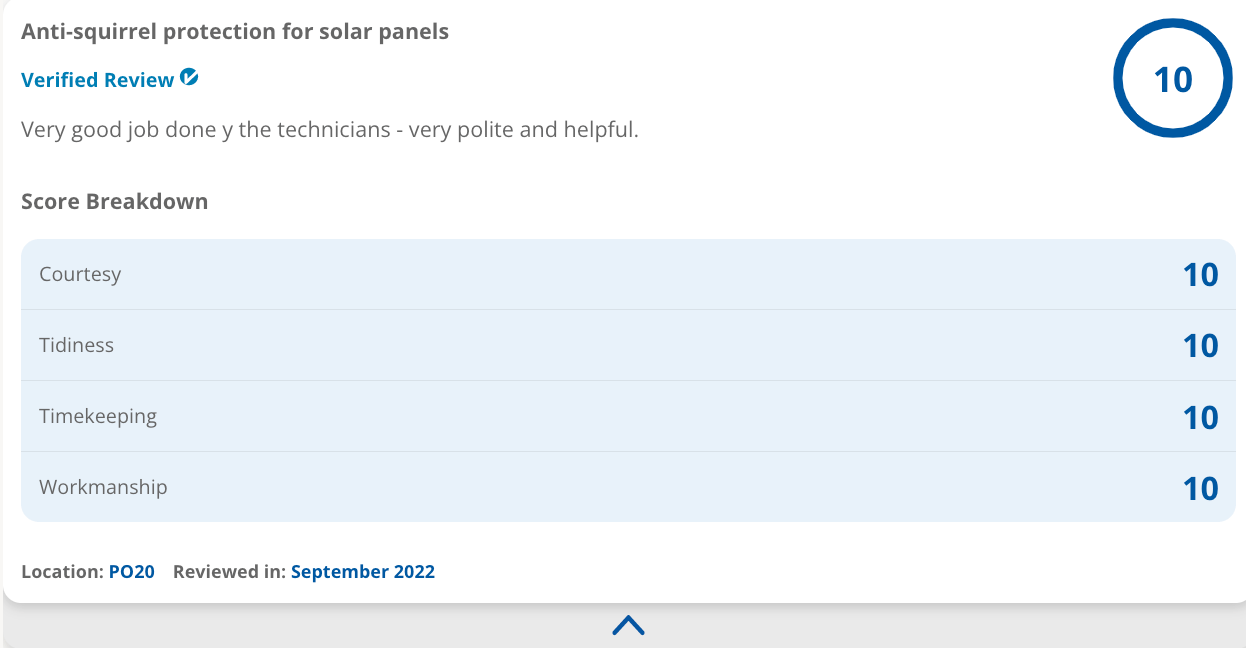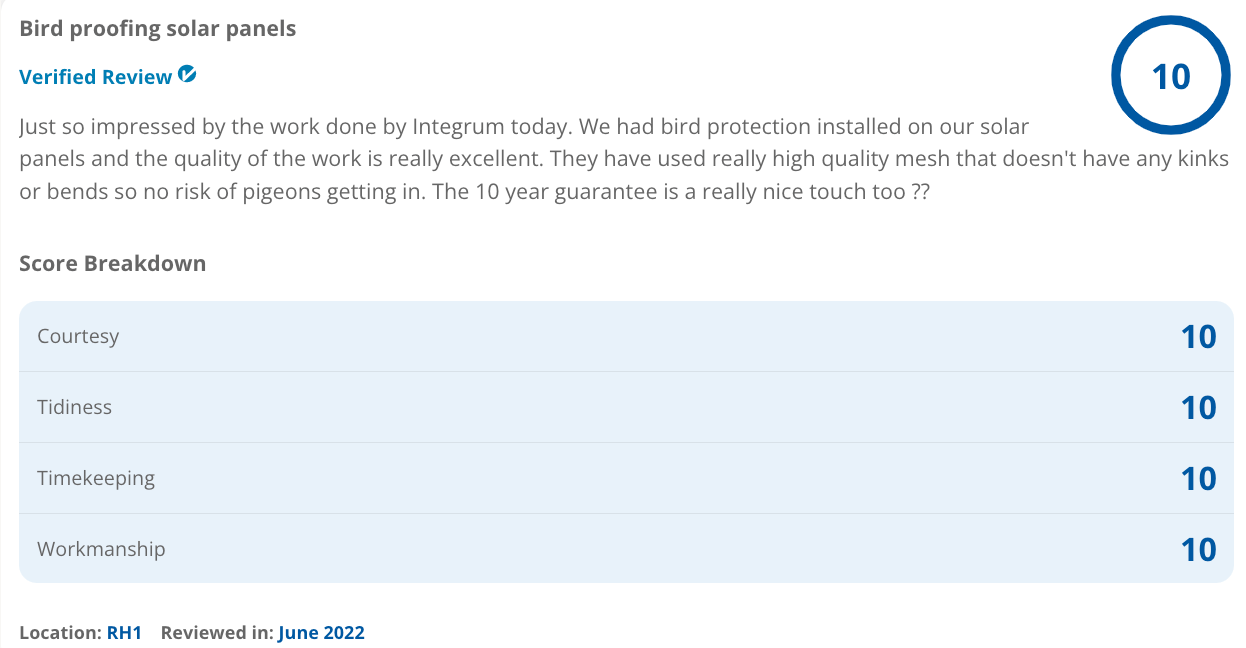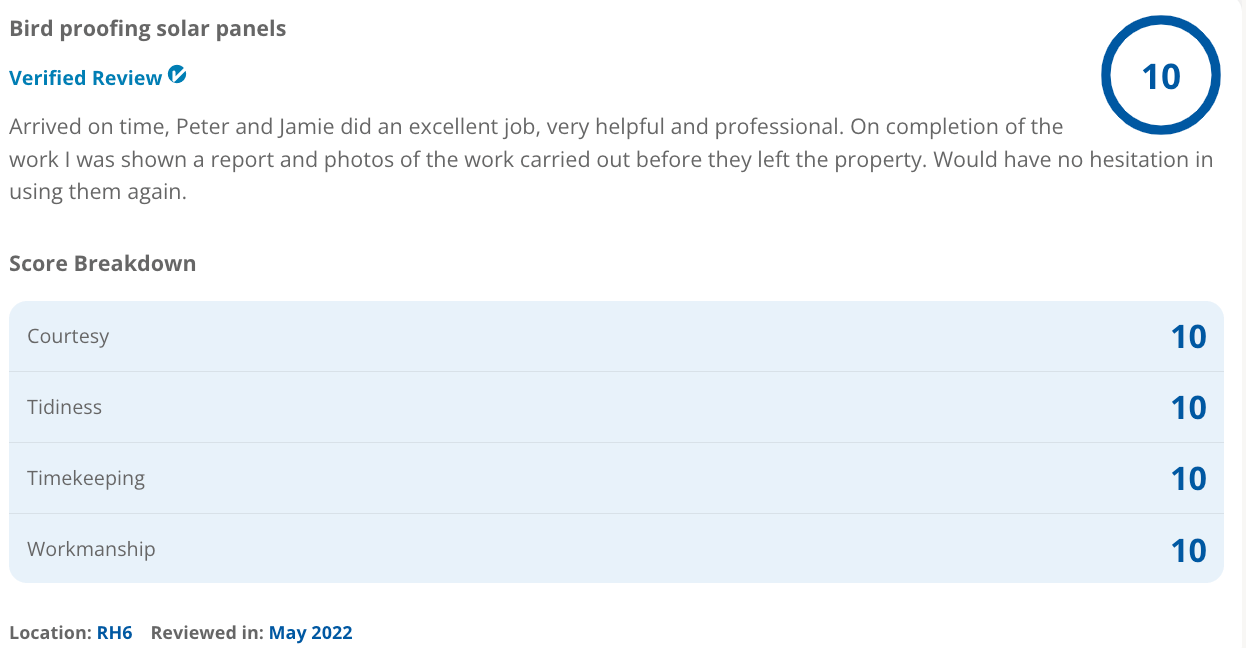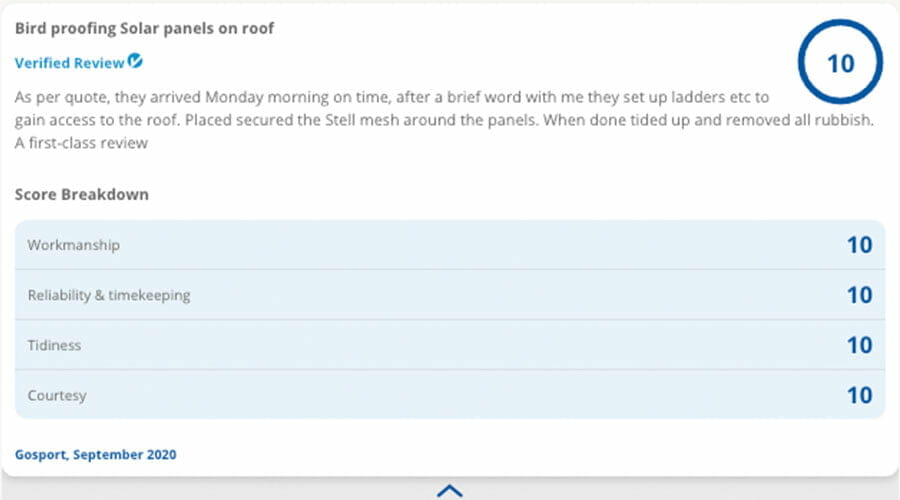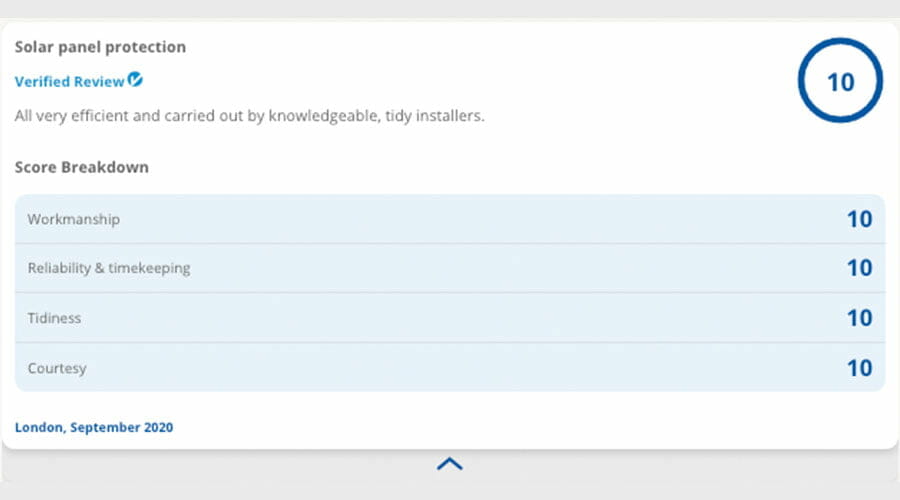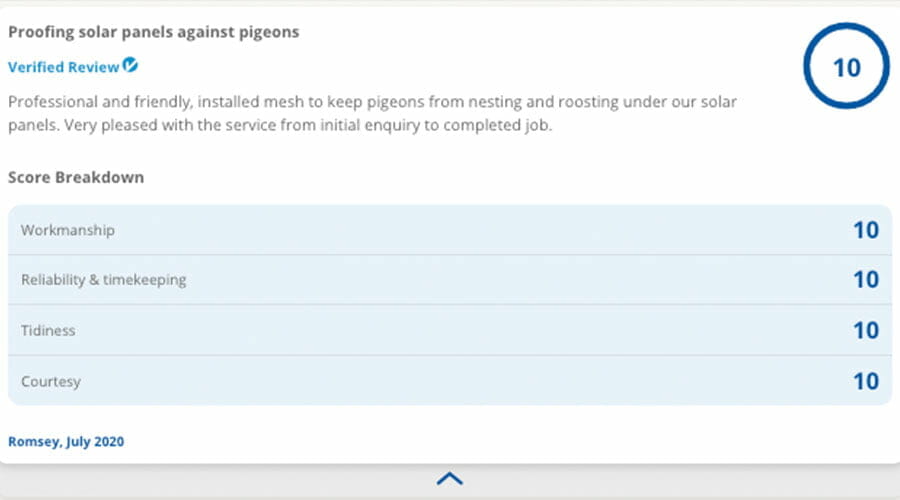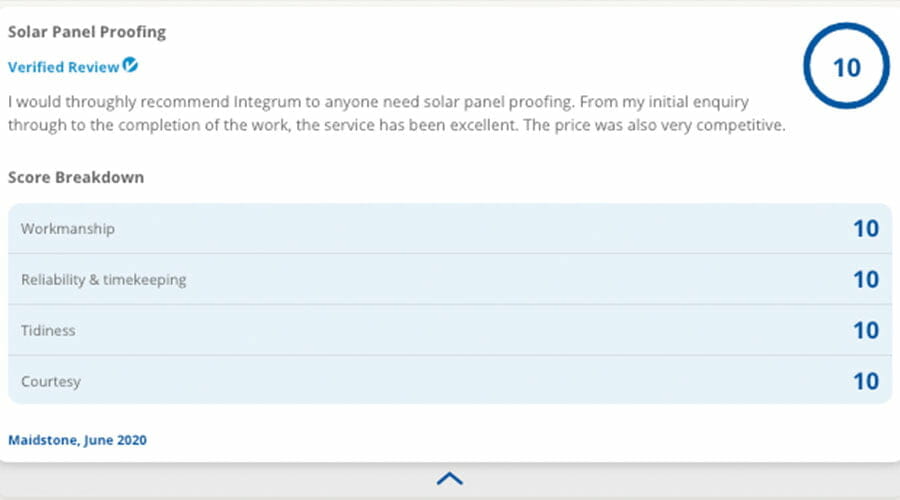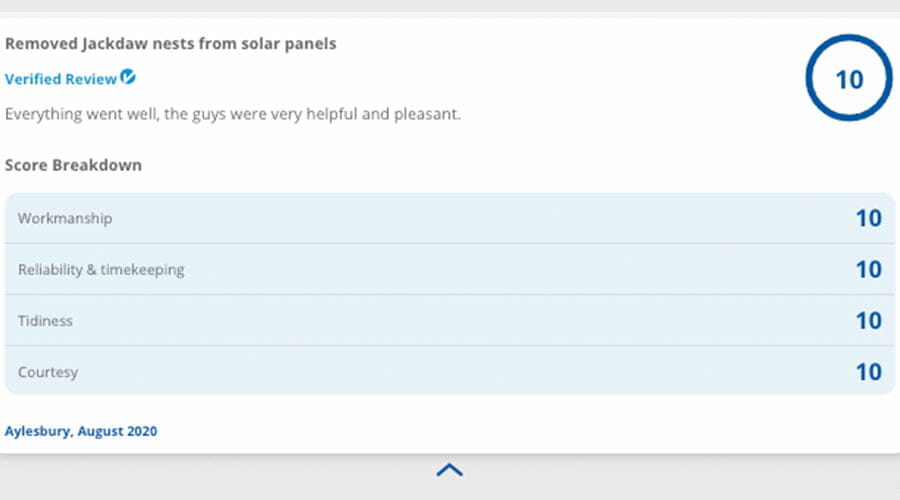 Solar panels have increased in popularity in recent years as society generally moves towards a greener environment. The cost savings following the initial investment can be significant, clients reducing their dependence on the National Grid. Unfortunately, solar panel installers fail to mention that birds will begin to nest underneath.

Over time, birds such as pigeons can start to multiply and can cause extensive damage to all parts of your solar panels, including the cabling, wiring and the panels themselves. Both the nesting materials and bird droppings can cause serious issues if left unattended. So, if you suspect pigeons or other birds are nesting under your solar panels, you need to call our expert bird control team before they cause more damage and pose a significant risk to your health and safety. Integrum is your solar panel pigeon proofing expert.

Our staff care about your health and well-being at home, which is why we're the UK's best company for removing pigeons from under solar panels. We even offer you a 15-year guarantee that pigeons won't get under your solar panels again. To ensure the safety of your home and legal compliance, we use only the best bird mesh, which is fitted after we've removed all pigeons, eggs and nesting materials from beneath the panels. We sanitise the area and remove bird bulk fouling and nesting materials as standard on all jobs, leaving the site pristine for you. If overhead power lines feed to your property directly, we will work with the relevant electricity distribution company to determine the safest way to complete the project.

The damage that birds such as pigeons can do to your solar investment can be tremendous, and no amount of convincing will make them leave; bird proofing is the only solution. So, are you still trying to decide if we are the right company? Click the button below to read some more of our fantastic Checkatrade reviews.


Protect your solar panel investment today
Frequently Asked Questions
Will my solar panels be cleaned when the bird proofing work commences?

As part of our service, we will remove bulk fouling from under the panels and clean the solar panels' surfaces. Our bird-proofing solar panel team will clear gutters under the arrays as standard and get rid of all waste from your home. The contaminated areas will be treated with biocide spray to eliminate any harmful pathogens.

Will pigeons try to get back under my solar panels once the work is complete?

The pigeons or birds will attempt to return to their nests under your solar panels for a short period. However, they will leave for another suitable location once they realise they can't gain access due to Integrum's bird-proofing mesh.

Do I need to install spikes on my ridge tiles?

Installing spikes on ridge tiles is an option, and whether you do it or not is purely down to preference. We usually find that pigeon-proofing solar panels using bird proof mesh is enough to do the job. However, we will happily provide you with additional options for either bird spikes or post and wire systems to be fitted. You can read more about our bird-proofing solutions here.

If you do choose to use bird spikes, they are applied with high-strength adhesive, whereas the post and wire we use will have ridge brackets or adhesive bases.

Are there other options beyond the 25mm galvanised bird-proof mesh?

There are several other ways to stop birds nesting underneath your panels, although we recommend using our specialist mesh for solar panel pigeon protection, of which we are the largest user in the UK.

Other options, such as solar guard spike systems or bird barriers, are also available. These options tend to be more expensive and do not offer the same 15-year guarantee. We can provide the same options with a black PVC coating if you require an alternative mesh.

Does Integrum remove birds lawfully?

Cheaper companies tend not to be registered with the British Pest Control Association (BPCA). Due to this, we often find that they do not understand the laws behind removing birds, and the last thing we want is for you to be at risk of unlawful removal.

All wild bird species, their eggs, and nests are protected by law. For more detailed information, please read up on The Wildlife & Countryside Act 1981.

As a basic overview, it is an offence to intentionally kill, injure or destroy the nest of any wild bird. Furthermore, there is an unlimited fine and up to six months imprisonment for breaking this law.

Due to this, it's essential to speak to an experienced pest control company like us if you have birds nesting under your panels. Integrum can help you identify the species under the panels and offer guidance and advice on how you can exclude them lawfully.

Some birds are covered by a general licence that allows you to remove birds to preserve public health and safety. However, most bird species require you to apply for a bird licence from Natural England. Don't worry; this will be handled by our pest control team.

Why should I use a pest control company over a solar panel company?

This question might not have crossed your mind, but ask yourself what a solar installer knows about bird exclusion, bird proofing, and bird control.

Unfortunately, more often than not, we find that low-quality mesh has been used to proof the solar panels by other providers, which doesn't keep the pigeons out for long. Also, since these companies don't understand bird behaviour, they often use the wrong exclusion techniques. Usually, this results in the birds regaining entry under the solar panels and the work having to be completed twice.

Ultimately, the difference between a solar panel company and a pest control company is that the latter is far better equipped and more experienced in dealing with pest birds, which means they know what works instead of just hoping for the best.

Integrum has carried out many projects where somebody has opted for a cheaper option, often with birds being removed illegally due to a lack of knowledge and accreditations. As such, we advise that you work with the experts from the start.

How much does it cost to pigeon proof solar panels?

If you're looking for a quick answer to the question "how much does it cost to pigeon-proof solar panels?", we can tell you that most prices start from £499 for 3-4 panels on your roof. However, this price can change depending on your circumstances, so we will always provide a bespoke quote. As standard, Integrum will always:




Use high-quality galvanised steel mesh.


Clean your gutters.


Sanitise your panels and roof to remove the diseases that come with bird fouling.


Remove birds and chicks lawfully from your panels.



Many companies will not complete all of these vital tasks, and if you don't check, your provider may leave you with unsanitised panels or extras to pay. Even worse, we've been to jobs where chicks have been left under to starve to death, so unless you choose a company qualified in the skill of bird exclusion, you're at risk of unlawful bird removal.

How much it costs to birdproof solar panels can increase due to the amount of damage that pigeons have caused to your investment. However, the cost also comes down to the ease of access to the solar panels and the number that needs to be pigeon proofed.

On the other hand, the price can increase if your solar panels are damaged, as birds sitting on the wires could mean that they need to be replaced. Furthermore, if powerlines are over the house, the cost can go up as the company will work with the electricity company to find a safe way to access and complete the job.

The final quote comes down to the company you choose to use. We have years of experience completing jobs around the UK and further afield, and birds are no match for our 15-year guarantee. Our focus is on offering value, so you get complete solar panel protection from birds in one treatment.

Can you get rid of pigeons?

Unlike many of our competitors, we are fully licensed by Natural England to remove nests and control pigeons lawfully. As such, we're one of the best options for homeowners looking for bird proofing services for solar panels.

How can I pay for the work?

As part of our commitment to quality service, Integrum offers a variety of payment options. We can take credit or debit card payments, invoice you on completion, set up pay-by-link systems, and accept BACS payments.

Any cash payments must be authorised by our office due to the risks associated with operatives carrying cash throughout the working day. We can also offer payment plans for all our work.

Do pigeons nest under solar panels?

It's well known that pigeons like to nest under solar panels. The odd pigeon or two won't cause any damage in the long run. However, if you have a group of pigeons that have decided your solar panels are a perfect nesting area, you'll need to call a pigeon-proofing solar panels expert.

What areas of the UK do you service?

Our expert solar panel pigeon proofing team operate in the South of England, covering areas including London, Surrey, Sussex, Kent, Hampshire, Essex, Middlesex, Bucks, Berks and Herts. However, we do have the ability to service the whole of the UK.

So please get in touch to receive your free competitive quote. Call our team today at 0204 566 5522 for professional and friendly advice.