How to stop pigeons nesting under solar panels
We all know that solar panels are ideal for the environment. However, when you invested in them, we bet you never thought birds such as feral pigeons would nest underneath them.
If you've just noticed birds gathering and there are only a few pigeons, it may not seem like a big deal. While one or two passing birds are not, it becomes a problem when pigeons or other birds multiple and decide to call your solar panels home.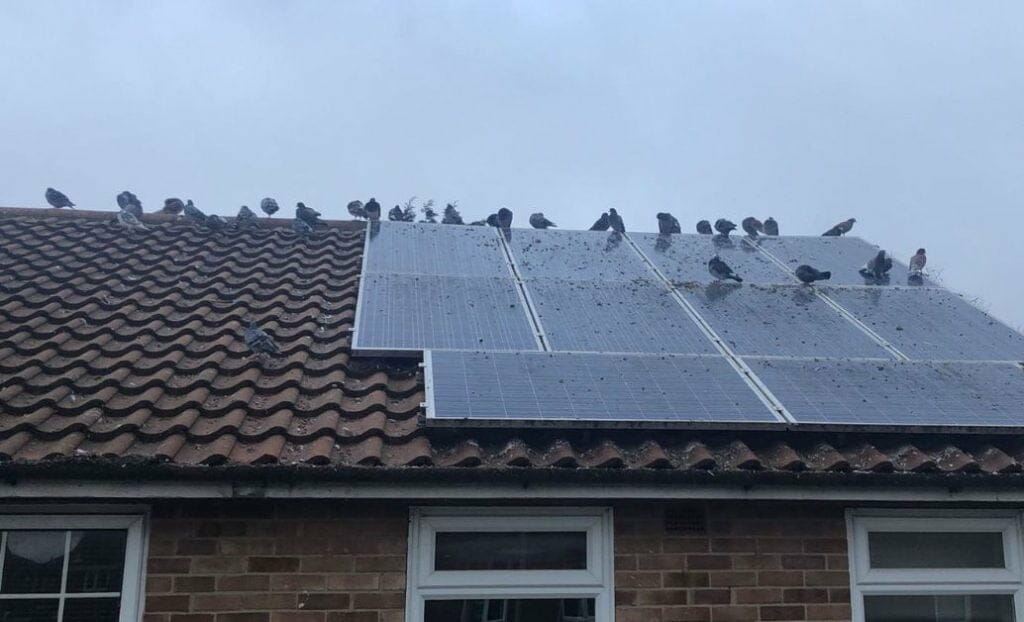 When this happens, it's essential to be proactive and ensure the birds take their nest elsewhere.
Unfortunately, it's easier said than done to move them.
Solar panels carry warmth and offer shelter for birds, so why would they want to move?
So, if you're experience problems with pigeons nesting under your solar panels, or want to be proactive about the situation, here are a few tips.
But wait, who are Integrum Services? Well, we're pigeon proofing solar panel experts and have carried out solar panel proofing jobs all around the UK and London.
Right, back to the blog.
Pigeons under solar panels? 6 Steps to take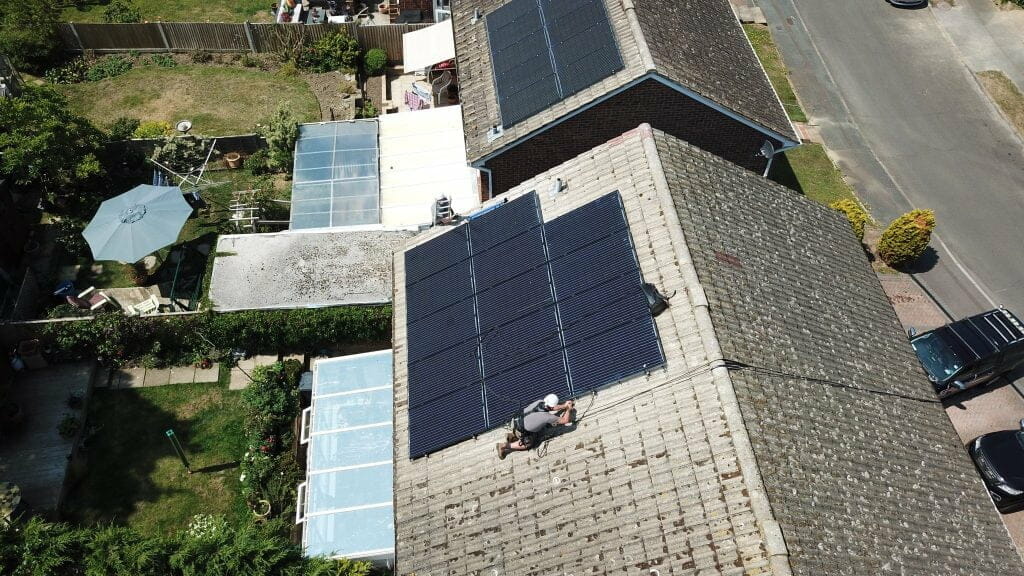 How can you get rid of pigeons from under your solar panels? Here are six tips you can follow to convince them to leave your property.
1. Install solar panel pigeon mesh
Solar panels are being installed across the United Kingdom at an exponential rate, and finding a solution that will not damage your investment is crucial.
Bird mesh is probably the best option to protect your solar panels. The mesh is designed to seal the area under your solar panels so birds can't get back under.
The most significant advantage of using bird mesh has to be how discreet it looks. Other solutions can be noticeable, but not solar panel pigeon mesh.
It must be pointed out that installing bird mesh correct can be a difficult job and not one that should be taken on by someone with no prior bird eradication experience.
2. Bird netting around solar panels
Pigeon netting is another method that is used to prevent birds from nesting under your solar panels. The bird netting, when placed around the solar panels, works as a barrier to stop birds from accessing their desired area.
Our expertise over the years has taught us that mesh is always the better option to stop birds nesting under solar panels. However, our blog is here to inform you of the options available.
3. Bird spikes for solar panels
Another option that you may find online for getting rid of pigeons under solar panels is bird spikes. Bird spikes can be installed as a method to prevent birds from nesting under the solar panels.
Bird spikes are available in multiple sizes and are usually very effective at stopping birds as they make it uncomfortable for birds to sit on their desired area.
Unfortunately, spikes can be unsightly and are not everyone's taste due to the discomfort they can cause.
4. Keep your garden clean
Keeping your garden clean only tends to work as a proactive method. Ensure your garden has no waste lying around as this will remove food sources for the birds.
It is also essential to make sure any bins surrounding your house are tightly sealed so birds can not feed on them. Anything birds might eat around your garden needs to be removed for this method to be effective.
5. Clean your panels regularly
Keeping your panels in good condition is just one step in being proactive. A solar panel array that is in a good, clean and working condition will be much less attractive for birds to nest.
We recommend having your solar panels professional services to ensure long-term functionality. Repairing any damage to the array and fixing any mounting issues are all part of the battle.
6. Contact a solar panel pest control company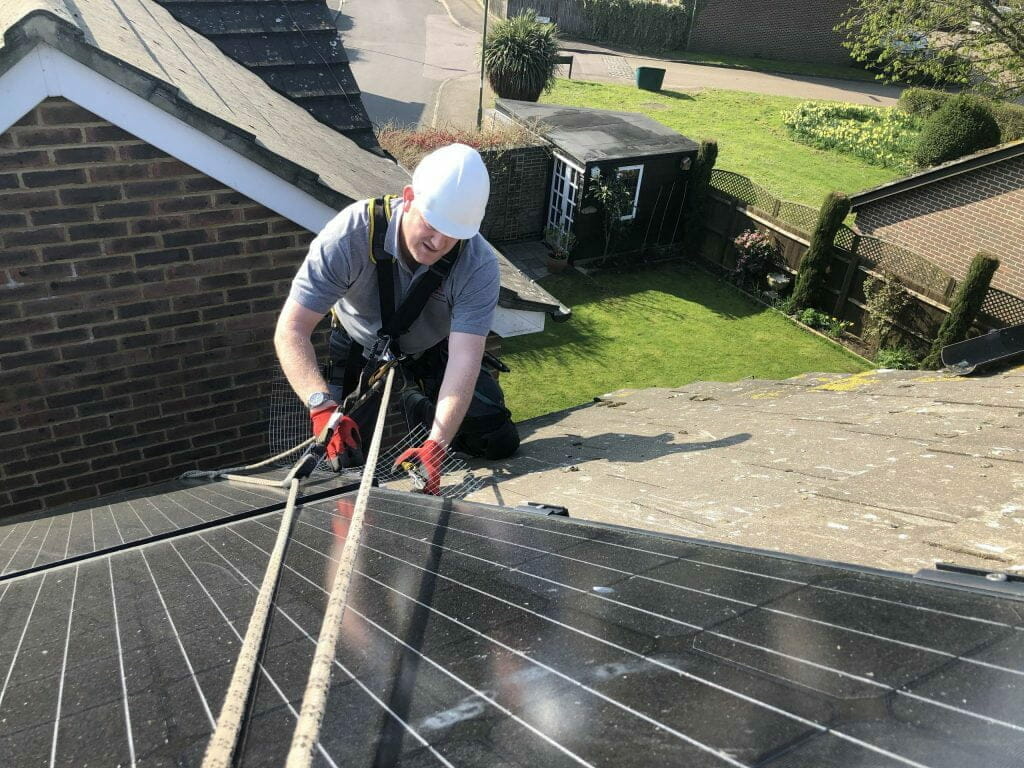 We strongly recommend choosing a professional pest control company to carry out the work.
Why choose a pest control company?
Well, bird exclusion and bird proofing is not something a builder, roofer or solar panel company would know. A pest control company, like ourselves, also have access to much high quality of materials. We've seen some companies use cheap garden centre mesh which will fair and rust very quickly.
The main reason why you should choose a pest control company to carry out the work is that companies such as ourselves hold a licence from Natural England to remove birds lawfully.
Conclusions
Our recommendation is to always use a professional pest control company to carry out the work. Getting rid of birds under solar panels can be a dangerous job as panels are generally in hard to reach areas.
We've also been to jobs that customers have tried to carry out themselves, and due to their inexperience of bird proofing, it has meant that they have had to pay for the materials and work twice.
If you do decide to use a solar panel pest control company and it isn't ourselves, ask yourself the following:
Are fixings non-intrusive to protect the warranty of the panels?
How will the mesh be fixed? Make sure it won't simply be bent under the frames of the panels.
Is the company a BPCA member, not just an employee or two with an entry-level certificate? Being a BPCA member is crucial as many companies still operate completely unregulated but advertise as having RSPH or BPCA trained staff. They may be BPCA trained but are they qualified? Ask to see proof if you are unsure.
Are they CEPA / EN16636 certified? Don't just take their word as the truth; check for verification.
Check that all waste be removed, and contaminated areas are to be treated with a biocide.
Make sure the company is registered as an upper tier waste carrier and that your waste won't end up dumped at the side of the road.
Beware of anybody who can complete the work too quickly. Why can they get the job done within a day or two? We may have a slight wait but for good reason and the differences in quality will be obvious.
If somebody says they can do the work for £200 - £300, what sort of finished product will you have?
We hope that our guide on how to stop pigeons under solar panels has been helpful. Don't forget, our UK wide pigeon proofing solar panel team is always a phone call away: 0208 914 7894