Affordable Wasp Control Services in London
Removing a wasp nest can be extremely dangerous, as wasps will attack when they feel threatened due to them protecting their nest. To avoid any risk to yourself or your family, arrange for a professional wasp nest removal company in London like ourselves to remove the wasp nest.
British Pest Control Association certified technicians
RSPH level 2 as a minimum
Same day wasp nest removal treatments
Servicing all of London and the southeast
Book A Wasp Nest Removal Treatment Today
Our Wasp Control Process
Integrum is the leading wasp nest removal company in London, the southeast and its surrounding areas. Our local specialists are all the British Pest Control Association (BPCA) certified and qualified, meaning you can have complete confidence that we'll remove your wasp nest to the highest standard.
Getting stung by a wasp is no joke; it can be excruciating and can be life-threatening for someone with allergies. However, acting as soon as you notice a wasp nest will reduce the likelihood of being stung. We're often able to remove a wasp nest on the same day of the call, so pick up the phone and speak to our team. Furthermore, you'll receive access to our professional-grade equipment and insecticide that is not available to the public, which can guarantee that we will solve your wasp problem better than any DIY solution.
Contact: As mentioned previously, the best chance you have is to act as soon as you notice the wasp nest. Our wasp nest removal team are only a phone call away to offer some free advice and guidance.
Survey: Once we have discussed your wasp problem over the phone or by email, we will be able to give you a price. If there are any concerns about the job or more information is needed, we will arrange to visit your property for a wasp nest removal survey. Don't worry; this is entirely free of charge.
Treatment: Our insured and qualified staff will visit your home to carry out the eradication service. Our insecticides are only for professional use and are much more useful than amateur solutions available on the market, so it'll only take one visit for our technicians to solve your wasp problem.
Aftercare: We're always a phone call away; our friendly team are available to answer any questions after the treatment has been completed to make sure wasps never return in the future.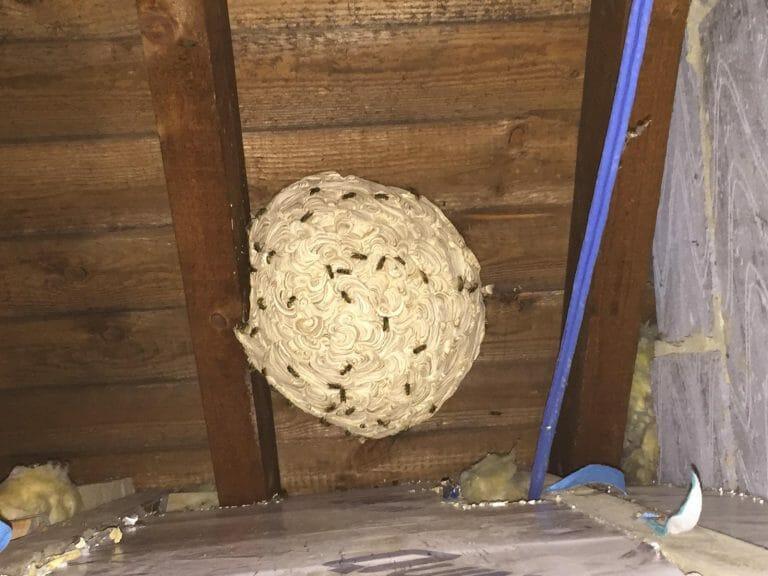 Commercial Wasp Control Services
A wasp nest at your commercial business is a severe issue; customers and staff will not be impressed if they get stung while on your premises. So to make sure your businesses reputation or liability never becomes challenged, you need to remove a wasp nest as soon as it's noticed. The great news is we've removed wasp nests for businesses all around London and the southeast, give us a call or email, and we'll take care of the rest.
Wasps Frequently Asked Questions
Will wasps just go away?

Wasp nests thrive in the summer months but will die off as the weather drops in the winter. However, when the temperature falls, the queen will produce new queens, which will all hibernate and build nests nearby. Unfortunately, this means that next years problem will likely be 10x worse if left untreated.

How much is pest control for wasps?

Wasp nest removal treatments in London fluctuate in price depending on the ease of access to the area and other factors. All our domestic wasp eradication services start at £60.00, including VAT.



Do you need to remove a wasp nest?

Yes, wasp nests can be extremely dangerous for yourself, your family and your pets. You should always contact a professional company like Integrum to solve the problem, as DIY solutions tend to have limited effect. For more information, please visit how to get rid of a wasp nest.

How to get rid of a wasp nest?

Do you want to remove a wasp nest from your property? The best thing to do is contact our wasp nest removal team as you won't have the adequate PPE, training or experience to remove the nest without serious risks.