Speak to a pest control expert
Affordable Wasp Control Services in London
Wasps are very hostile insects, prepared to attack if they feel threatened. For some individuals, a sting from a wasp could be life-threatening, so care and caution should be used when dealing with a wasp nest on your property. As wasps can live both inside and outside in colonies of up to 20,000, they can be dangerous to you, your family and household pets. To avoid this risk, we recommend organising a professional pest control company to remove the nest for you.
At Integrum, we have a team of experts who are fully trained and equipped to deal with all levels of a wasp infestation. Our wasp control solutions are efficient, with minimal disruption to your home, and we offer a guaranteed service.
British Pest Control Association-certified technicians (BPCA)
Same-day emergency wasp nest removal treatments
Servicing all of London and the southeast of England
Wasp removal prices start from £60, including VAT.
Book A Wasp Nest Removal Treatment Today
Our Wasp Nest Removal Process
The clear signs of a wasp infestation are finding wasps in your home or business. Therefore, if you suspect you have a pest problem, it is crucial to call professional pest controllers to minimise the risk of painful stings, disruption to your life or damage to your building structure.
Contact: Our wasp pest control service is available for all domestic and commercial properties in London and the South East. Please complete an online contact form, call us or email the team to organise your pest control quote or survey. We are available for appointments 24/7, and our friendly team of experts are happy to provide advice and pest control guidance.
Survey: Once we have identified your pest problem by phone or email, we will provide a quote based on your required service. Our wasp removal treatments start from £60; however, if there are any concerns about the job or more information is needed, we will organise a free survey on your property first.
Treatment: Our qualified and insured team of experts will arrive at your property to conduct the wasp extermination service. Our professional-grade insecticide is 100% successful; therefore, only one visit is required to eradicate all wasps.
Aftercare: Following your wasp nest removal treatment, our team can answer any questions you may have to protect your home from a future wasp infestation. You can reach our friendly team of experts by calling us at 0204 566 5522 or by email at 

[email protected]

.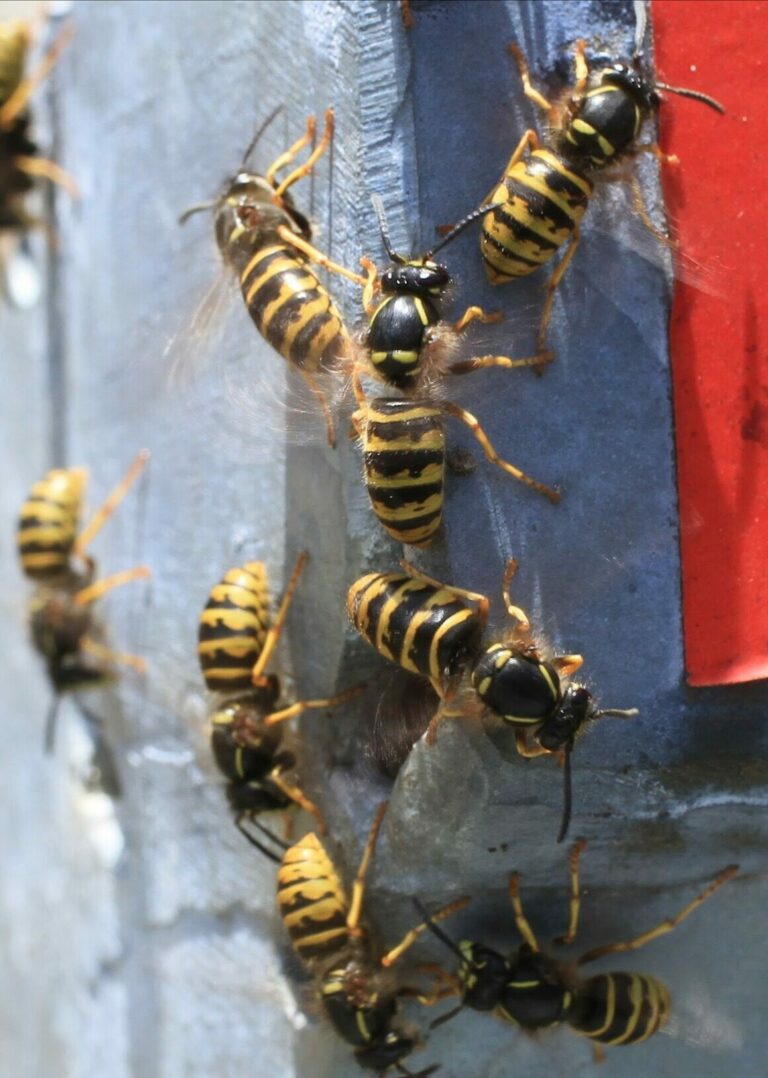 Commercial Wasp Control Services
Wasps living in your commercial business is a critical issue as they pose a risk to customers and staff.
If a visitor was stung on your business premises, this could impact your reputation and liability. Another issue to consider is the opportunity for food contamination. As wasps navigate in search of food, they can land in dirty places such as the floor, drainage systems, animal waste and rubbish. As a result, if you own a restaurant and have active wasps flying around in the preparation area, you risk contaminated produce which could make your customers very sick. Therefore, you must remove a wasp nest as soon as you notice a problem.
The common signs of a wasp problem include:
A buzzing sound.
Finding dead wasps around your property.
Seeing wasps regularly.
Finding a wasp nest.
Fortunately, Integrum has removed hundreds of wasp nests for business all across London and the South East. So we are prepared for all infestations and can deal with your wasp nest on the same day you enquire. In addition, we can provide a discreet and specialist service for establishments such as schools or other sensitive business areas.
To organise your commercial wasp nest removal treatment in London, please call the team at 0204 566 5522 or email [email protected].
Wasps Frequently Asked Questions
Will wasps just go away?

Wasp and their nests thrive in the summer months but will die off as the weather drops in the winter. Unfortunately, as the temperature falls, the queen will produce new queens who will build nests nearby and hibernate until the weather improves. Therefore, next year's problem will likely be worse if left untreated.

How much is pest control for wasps?

Wasp nest removal treatments can fluctuate in price around London as it will depend on the wasp nest location, ease of access and extent of the infestation. At Integrum, our domestic wasp eradication services start at just £60 (including VAT).


Do you need to remove a wasp nest?

Yes, wasps can be very dangerous for your family and pets if they are not treated quickly. Although DIY wasp control solutions such as insect sprays or powders may mask the problem, they will not remove the nest and insects. Therefore, the only guaranteed way of eradicating a wasp nest is by contacting Integrum.
For more information, please visit our how to get rid of a wasp nest blog post.

How to get rid of a wasp nest?

The most effective way to remove a wasp nest from your property is to call a professional pest control company. Without appropriate PPE, training and experience, you risk injury to yourself and could worsen the infestation. With visits starting from just £60 for domestic callouts, this is significantly cheaper than purchasing protective clothing and DIY remedies, which will not be 100% effective.  

What should I do if I find a wasp nest? 

Wasp nests are typically found in dry and warm areas such as wall cavities, floorboards, roof spaces and garden sheds. You can also try following worker wasps carefully, as they will lead you to a nest nearby.

If you have found a nest, we do not recommend touching it as this could anger the colony. In addition, unless you have appropriate PPE, we don't suggest attempting to remove the nest or kill the wasps as you risk multiple wasp stings. Instead, we propose that you close the door to the room where the nest is located and seek professional guidance.