Speak to a pest control expert
Expert Rabbit Control Services in London
When we think of rabbits, we tend to think of cute little pets with fluffy tails, but wild rabbits are a different story. Unfortunately, most people are unaware of the impact rabbits can have; not only will they chew their way through your entire garden or vegetable patch, but they also carry deadly diseases, including myxomatosis and the VHD virus.
Once rabbits infest your property, the problems will only get worse due to their rapid reproduction rates, which is why you require the help of a professional pest control company like Integrum, who offer the following:
24/7 emergency same-day appointments for rabbit control

BPCA and RSPH qualified rabbit removal technicians

Humane dispatch of rabbits

Proofing solutions to keep them off your property for good

Free quotes for domestic and commercial properties

Over 70 years of pest control experience

Family-run & industry-leading
If you're having trouble with rabbits, you require our rabbit control services immediately. Contact us using the link below or use our live chat now for a free rabbit removal quote.
Have you discovered signs of Rabbits on your London property?
Integrum's Rabbit Control Process
Integrum are the number one rabbit removal and proofing company in London and the South East of England. Our team of pest controllers are all BPCA (British Pest Control Association) certified, with over 70 years of experience in the industry between them.
Integrum offers humane services to rid your property of rabbits, as well as proofing measures to ensure that the infestations cannot return. View our process below:
Contact: 

If you have

 

noticed rabbits on your London property, then time is of the essence. Contact us, your local rabbit control professionals, as soon as possible to minimise the damage caused and risks to your loved ones. Call, email, or fill in our contact form now.

Survey:

We offer free quotes for our rabbit control services. However, some cases may be more complex and require a survey to assess the infestation further. Call now on 0204 566 5522 or open our live chat

to discuss your rabbit problem with our friendly team.

Treatment: 

We know from our years of experience that every case is unique, which is why we offer pest control services tailored to your specific problem. Using a combination of rodenticides, traps and proofing methods, we will safely remove your rabbit infestation.

Aftercare: 

If necessary, we will return to the property to ensure the rabbit infestation has gone completely. Once the infestation has been removed successfully, we will apply proofing measures to confirm the pests do not return.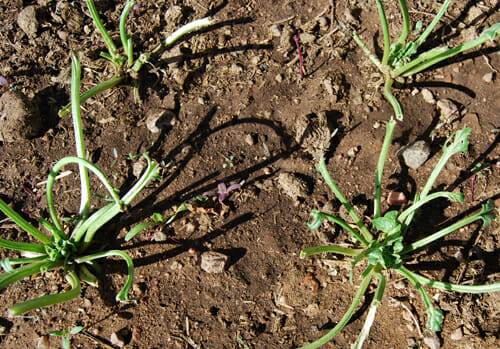 Signs of a Rabbit Infestation
Rabbits love landscaped gardens with lots of shrubs and vegetation around for them to nibble on; making your garden target number one. It's rare that wild rabbits will try to enter properties, so you'll most likely find signs of their presence in your outdoor areas. Due to their fast reproduction rates, one or two rabbits in your garden can very quickly turn into an infestation that requires urgent attention. Here are the most common signs of a rabbit infestation that you can look out for:
Plant Damage – Rabbits have an insatiable appetite and, if left to their own devices, will happily eat their way through your garden over the space of days or weeks. Whilst they're not the only pests that could be eating your greenery, rabbits cause cleanly cut damage to leaves, stems and flowers. Insects and other garden pests will leave behind jagged edges or teeth marks; making clean-cut damage a telltale sign of rabbits.

Digging – As animals known for living underground in warrens and burrows, it should come as no surprise that rabbits will dig in your garden! Look out for signs of digging, i.e piles of dirt and holes, in your flower beds, around shrubs and even in your grass.

Droppings – Just like all pests, one of the most obvious signs of their presence is the droppings they leave behind. Rabbit droppings are typically very small, roughly the size of a pea, and most commonly black or light brown in colour. Look out for these among flowerbeds and any areas you've noticed damage occurring.

Fur – Another common sign of a rabbit infestation is fur. As they go about their day rabbits malt and leave behind small tufts of fur, so look out for these around your garden – particularly on or around plants.
Rabbit Control & The Law
Did you know that rabbits are estimated to cause losses of over £260 million each year by damaging crops and infrastructure?
Due to the extent of the damage they cause, the Pest Act 1954 made property/landowners responsible for controlling the number of wild rabbits on their property. The law states you must control rabbits on your land, and if this is not possible, you must stop them from causing damage to adjoining land by utilising proofing measures. Failure to obey these laws could land you with a hefty fine or even prosecution!
Commercial Rabbit Control London
It's not just domestic households that suffer from rabbit infestations. If your London-based commercial premises has outdoor, green spaces then you too may be at risk of a rabbit infestation. Due to the viruses they carry and the damage they cause, rabbits can seriously damage the reputation of your business and place your employees and customers at risk.
If you've noticed any of the above signs of rabbit infestations on your commercial property, it's important to leave it to the professionals. Call us today on 0204 566 5522 for a free quote for rabbit removal or proofing services.
Frequently Asked Questions
Is it illegal to kill rabbits?

No, wild rabbits are not a protected species here in the UK. In fact, under the Pests Act 1954, all occupiers of land have a continuing obligation to kill or get rid of wild rabbits on their land.

Can pest controllers get rid of rabbits?

Absolutely. We recommend leaving it to the professionals due to rabbits' diseases. We have specialist equipment designed to protect us whilst ridding your land of rabbit infestations. We will also proof the area once the rabbits have been removed to prevent them from returning.