Expert Moth Control Services in London
If moths have infested your home or business, it's crucial to act quickly, as if left untouched, moths can multiply, resulting in a more costly removal process. Contact us today to learn more about our moth pest control chemical and heat treatments, pricing, or get some helpful tips on getting rid of moths. We're experts when it comes to controlling moths in any setting; our British Pest Control Asociation (BPCA) certified technicians are on hand to deliver the best moth pest control services to your London home or business. 
Book a Moth Control Treatment Today
Our Moth Control Process
There are several species of moths that you may find in your home or business, and adults are usually completely harmless to human health; these species include clothes moths and carpet moths. However, they are seen as pests due to their larvae and the damage they cause to clothes, materials and food. Due to the damage they cause, we offer moth control treatments in London and the whole of the southeast, keeping your home and business free from the damage clothes moths can cause.
Integrum offers a range of carpet and common clothes moth eradication methods using chemicals, insecticides, and non-toxic methods. Our services are permanent, unlike DIY solutions found over the internet. If you've noticed moths in your home or damage to natural fibres and would like a professional solution, feel free to call us today on 0208 914 7894. Our team is fully insured and trained in eradicating larvae and adult moths, and our qualified staff have access to higher-grade insecticides not available to the public.
Contact: It's essential to act as soon as you notice adult moths, as a small problem can develop into a significant issue in no time at all. If you're unsure about your infestation, start by calling, emailing or filling in a form on our website, and we'll provide you with some free advice and guidance.
Survey: Once we've chatted on the phone, we will discuss our team's options to complete the work. Our BPCA qualified surveyors will visit your property if required to complete a completely free moth control survey.
Treatment: We'll visit your home or business at an arranged time to carry out our moth pest control and extermination treatment. Our moth extermination process requires two visits to guarantee that they will no longer cause damage. Please speak to our team if you need a discreet service.
Aftercare: Once your treatment has been completed, we'll ensure you have the information and guidance available to prevent an infestation from ever recurring. We're always a phone call away and will make as many visits as needed to resolve your moth infestation.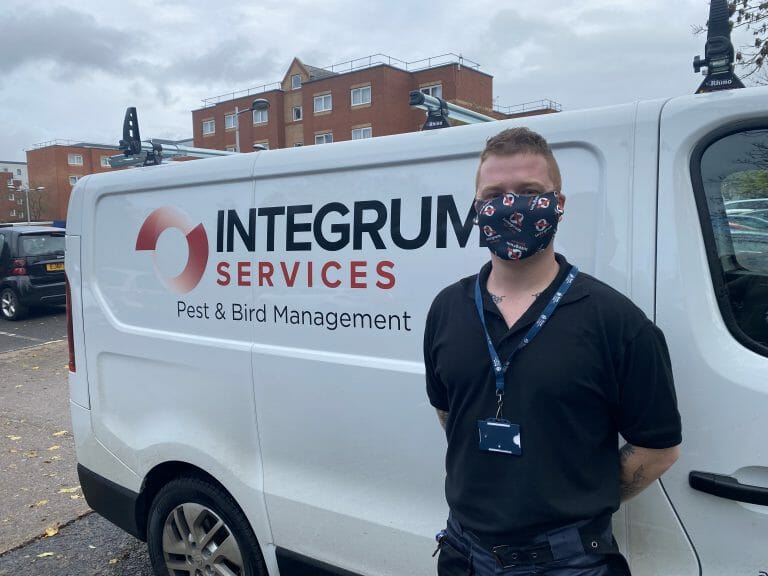 Commercial Moth Control Services
If you've noticed a moth problem in your commercial building or business, it can be very damaging for multiple reasons. First, moths can damage natural fabrics, textiles, clothes and carpets, which can completely ruin any stock you may have. Moreover, food production or storage businesses must remove moths straight away to stay legally compliant and stop food contamination.
If you think that you may have moths at your business, arrange for one of our BPCA certified surveyors to visit your site completely free of charge. They'll identify if moths are causing you problems and suggest a cost-effective way of accessing our heat treatment services.
How do we deal with Moths?
Our team has worked with a range of different options over the years. However, no matter which control method we use, it always has the same goal: to eradicate all lifeforms, including adult moths and, more importantly, eggs and larvae.
Heat treatments for control
We may suggest a heat treatment; this involves heating all content of the infested room to over 55º C as this is the temperature required to kill all lifeforms, including larvae and eggs.
Chemical treatments for control
The second option that we may suggest is a chemical treatment to remove all lifeforms. Chemical treatment involves using an ultra-low volume (ULV) fogger, which we have vast experience using to combat viruses and diseases for companies like British Airways. The pesticides that we operate within the fogger have proven highly effective to stop moths dead in their tracks.
Combination treatment for control
Finally, the last option we may suggest is a combination of both heat and chemical. Heat treatments are fantastic for removing any eggs or larvae from materials, and when combined with our expert chemical treatments, we can guarantee that moths will no longer be a problem at your property.
Are you unsure which treatment method is correct for your situation? Arrange for a technician to visit your property and to inform you which you should be using. Every case is different, and you may not need to invest in both options, depending on how bad the infestation is. Although we recommend both solutions to guarantee the effective removal of all lifeforms, if the infestation is minor, you may be able to use just one of the suggested treatment options.
Moth Frequently Asked Questions
How long do moths live?

Moths tend to have a lifespan that varies from 30 to 90 days long.

How much does pest control cost for moths?

Pest control for moths in London changes depending on how bad the infestation is. All our domestic moth fumigations and treatment plans start from as little as £270, including VAT, which covers up to 3 rooms. Additional rooms start at £46.80.

How do pest control get rid of moths?

There are many options available to get rid of moths; insecticides and fumigation is one option that kills moths during all stages of life. Furthermore, steam treatments and heat treatments are available, which eradicate moths due to the heat it permits. Discuss with your pest control provider which is the most suitable method available for you.

What moths do you eradicate?

Over the years, our BPCA qualified team has helped customers with the ordinary clothes moth, carpet moth, and the food moth, pantry moth, and less common types such as the White-shouldered house moth.