Expert Silverfish Control Services
Removing infestations of Silverfish can be difficult. They burrow into the darkest, most obscured crevices around your home and only come out at night. When controlling Silverfish, it's vital to remove the pests at all stages of their lives, or they will continue to return.
To properly remove a Silverfish infestation, you require the services of a pest control professional like Integrum, who proudly offer the following:
Emergency, same-day appointments
Discreet Silverfish removals for businesses
Highly skilled, BPCA qualified technicians, experienced in Silverfish control
Return visits and proofing techniques for long-lasting protection
We offer our Silverfish control services across London and the South East of England, keeping your homes and businesses safe from the damage they cause.
Signs of Silverfish on your property?
Integrum's Silverfish Control Process
When it comes to Silverfish, there are two main methods of treatment – insecticides and traps. It's vital to terminate the Silverfish at all stages of their lives to ensure the infestation doesn't return. We offer the following Silverfish control treatments tailored to each customer's situation and needs.
Insecticides – As proficient pest controllers, we have access to professional-grade insecticides that are much more effective than any DIY, over-the-counter alternatives. Insecticides are the most effective method for controlling Silverfish, and they can be applied in a range of ways, including fogging, spraying, targeting and bombs. A technician will determine the most appropriate application method during your survey.
Traps – Traps are a brilliant Silverfish control method for situations where insecticides cannot be used safely. Although they may take longer to work, traps are still an effective method for eradicating a Silverfish infestation. A combination of traps and insecticides is often the best plan of action to ensure all stages of Silverfish life are removed.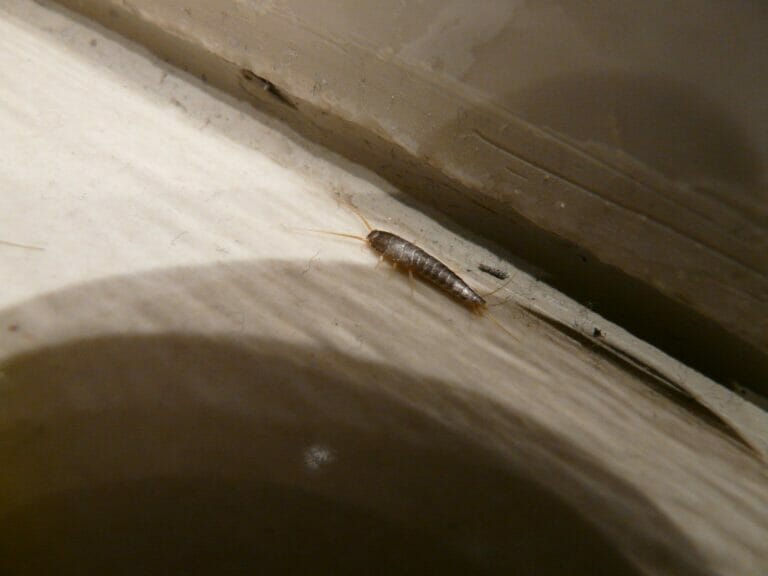 What are Silverfish?
Silverfish are thought to be one of the oldest insects on the planet. They are wingless creatures whose name stems from their metallic appearance and fish-like movements. On average, Silverfish can live for up to eight years, and an adult Silverfish will measure between 13-25mm.
Their long, narrow bodies taper off at the end, creating the telltale fish shape, and their skin is covered in tiny little scales. They are nocturnal insects that hide away from humans, making it challenging to identify their presence in your home.
Damage Caused by Silverfish
Despite their small size and seemingly harmless appearance, Silverfish cause extensive damage wherever they go. They are often described as 'nuisance pests', as they will eat their way through your belongings over long periods – whilst going primarily unnoticed due to their size.
Once they've made their way inside, they will chew through any materials they can find that contain high amounts of starch or cellulose. Their typical diet consists of books, carpet, clothes, wallpaper, glue, photos, and plaster – even dandruff!
Identifying a Silverfish Infestation
Due to their nocturnal lifestyle and brilliant hiding skills, it can be challenging to discover a Silverfish infestation in your home. However, here are some telltale signs to look out for:
Droppings – Like all pests, Silverfish leave their trace wherever they go in the form of droppings. Fortunately for you, they have unique droppings that are easy to identify. Look out for small, black, peppercorn shaped droppings in humid, hidden areas.
Shedding Skin – Silverfish shed their scaley skin numerous times throughout their lives. Unfortunately, this moulting is what triggers people's allergies in the home. Therefore, regularly check your home for small, transparent shells as this is a definite sign of an infestation.
Yellow Stains – Silverfish often leave behind small yellow-coloured marks on your belongings as they move around and shed their skin. Pay particular attention to your clothing, books, and wallpaper for such stains and yellow dust around your home.
The signs of Silverfish are sometimes confused with those left behind by cockroaches. However, we will be able to accurately distinguish between them during a survey of your property.
Commercial Silverfish Control
Silverfish infestations are more common than you may think, and once they've made their way into your London business, it can be extremely challenging to get rid of them. You'll often find them in dark, damp spaces, including basements, storage areas, laundry rooms, kitchens and bathrooms, as they thrive in humid environments.
If left untreated, a Silverfish infestation can quickly get out of hand. While they're not the most lethal type of pest, they can certainly cause a lot of damage, especially in large numbers – and let's face it, no pest infestation is good for business.
To help protect your business, staff, customers and reputation, we offer Silverfish control treatments for commercial properties and businesses across the London boroughs and the South East of England.
Contact us today for a free survey to discover the true extent of the infestation causing you problems and the most suitable methods for controlling it.
We have successfully carried out a range of Silverfish control projects in various industries, including hospitality, education and public transport, and we know just how much they can damage a business's reputation.
Frequently Asked Questions
Are Silverfish dangerous for humans?

Silverfish do not bite and, according to recent studies, they don't carry any harmful pathogens or diseases. They can cause allergic reactions and difficulties for some, particularly if you have existing allergies. They shed their skins throughout adulthood, leaving behind tiny scales which mix with dust particles in the air.

Which areas do you offer Silverfish control in?

We offer our Silverfish control, removal and proofing services across London and the South East. Discover all the Areas We Serve.

Are Silverfish common in London?

Unfortunately yes. Silverfish are common across England, but the high population of London does make it particularly popular for the Silverfish species. As a general rule of thumb, more people in one area will result in a high amount of all types of pests - including Silverfish.