Speak to a pest control expert
Expert Silverfish Control Services
Controlling a silverfish infestation can be difficult. They prefer damp and humid environments and burrow into the darkest, hard-to-reach areas around your home. Unfortunately, kitchens and bathrooms provide optimal conditions and are the most affected areas in a property.
Removing all life stages is vital when controlling silverfish, or they will continue to return. Therefore, enlisting the help of a professional pest control company is essential to manage and eradicate all pests. Here at Integrum, we provide:
Emergency, same-day appointments
Discreet Silverfish removals for businesses in London
Highly skilled, BPCA-qualified technicians
70+ Years of experience in silverfish pest control
Return visits and proofing techniques for long-lasting protection
Guaranteed results
We offer our silverfish control services across London and the South East of England, keeping your home and business safe from the damage they cause.
Signs of Silverfish on your property?
What Are Silverfish?
Silverfish are nocturnal insects thriving in high-humidity environments which are warm, dark and damp. As they are wingless, silverfish bugs travel along surfaces searching for food, such as paper, wet clothing, book bindings and wallpaper. Subsequently, an active silverfish problem can result in costly property damage and cause allergic reactions in some adults and children.
How To Get Rid Of Silverfish
When it comes to silverfish, there are two main methods of treatment – insecticides and traps.
Insecticides – As proficient pest controllers, we have access to professional-grade insecticides that are much more effective than any DIY, over-the-counter alternatives. Insecticides are the most effective method for controlling silverfish, and they can be applied in a range of ways, including fogging, spraying, targeting and bombs. Our expert technician will determine the most appropriate application method during your free survey.
Traps – Alternatively, traps are a brilliant silverfish pest control method for situations when insecticides cannot be used safely. Although they may take longer to work, traps are still an effective method for eradicating a silverfish infestation. A combination of traps and insecticides is often the best action plan to remove all stages of silverfish life.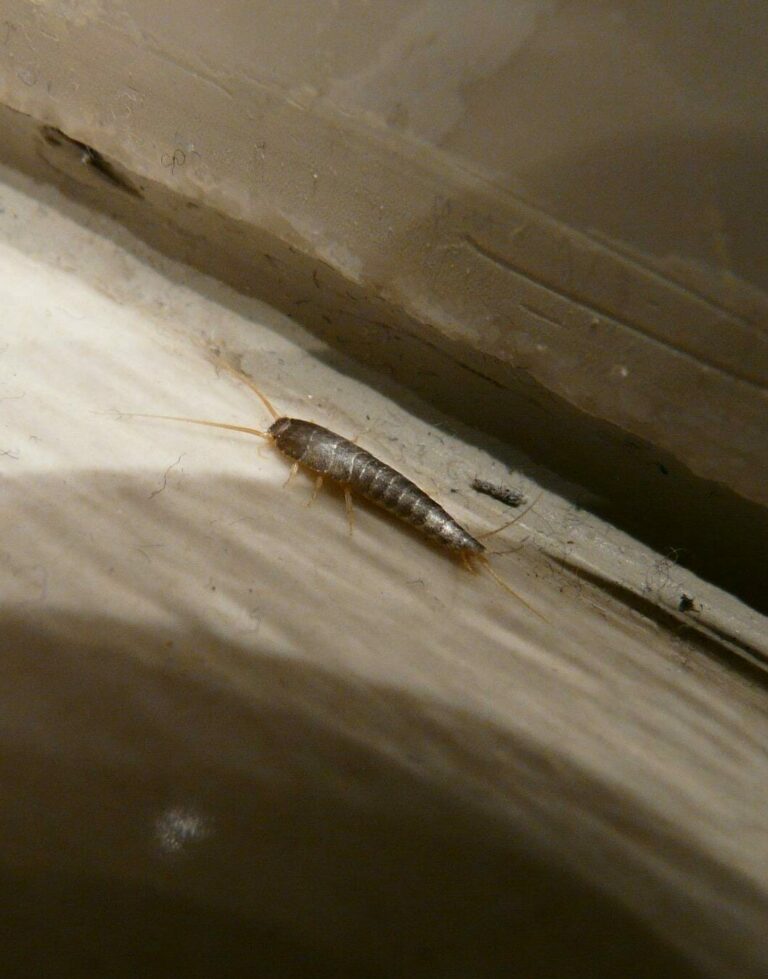 Identifying a Silverfish Infestation
Due to their small size and incredible hiding abilities, silverfish are elusive and difficult to spot. However, here are some telltale signs to look out for:
Droppings – Silverfish leave their trace wherever they go in the form of droppings. Look out for small, black, peppercorn-shaped droppings in humid, hidden areas around your property.
Shed Skin – Adult silverfish shed their scaley skin numerous times throughout their lives, and this moulting can trigger people's allergies. Check your home for small, transparent shells, as this is a definite sign of silverfish in your house.
Stains – Silverfish often leave small yellow-coloured marks on your clothing, floors, books and wallpaper as they move around.
Damage – Finding small holes in textiles, clothes and paper items clearly indicates a pest problem.
The signs of silverfish are sometimes confused with those left behind by cockroaches in London and carpet moths. Fortunately, during your free site survey, we can accurately distinguish which pests are causing you problems. Book your visit by calling our expert team at 0204 566 5522. 
Commercial Silverfish Control
Silverfish infestations are common. However, for businesses that cook and serve food, an active infestation can contaminate food preparation areas and seriously affect the safety of your customers and employees. Any pests in your London business can negatively impact your reputation, profits and hygiene standards. Therefore, efficient and successful pest control is essential. 
At Integrum, we have carried out hundreds of London silverfish pest control treatments in the hospitality, education, healthcare and public transport industries. We know how much they can damage your business's reputation and impact operational activities, so our commercial pest control service promises fast results with minimal disruption.
Contact us today for a free survey and discover the most suitable silverfish treatment for guaranteed eradication of your pest problem.
Frequently Asked Questions
What do silverfish look like? 

Silverfish feature a long, narrow body which tapers off at the end. They are covered in tiny scales that are a silvery/blue colour and move in a side-to-side motion, similar to a fish. 

Are Silverfish harmful for humans?

Silverfish do not bite and are not known to carry any harmful pathogens or diseases. However, they can bring germs and bacteria into your home if they have travelled in unsanitary environments before entering your property. Furthermore, when silverfish shed their skin, they can cause allergic reactions in some people, impacting your family's or employees' well-being.

What do silverfish eat? 

Silverfish are often described as 'nuisance pests', as they will eat their way through your belongings – whilst going unnoticed due to their size. They will chew through any materials that contain high amounts of starch or cellulose. Their typical diet consists of books, carpets, clothes, wallpaper, glue, photos, plaster, and even dandruff!

Are Silverfish common in London?

Yes: silverfish are common in England, and London's high population is prevalent for the silverfish species. As a general rule of thumb, more people in one area will result in a high amount of all types of pests - including silverfish.

Which areas do you offer Silverfish control in?

We offer our silverfish pest control, removal and proofing services across London and the South East. Discover all the Areas We Serve.

How can I prevent silverfish?

We recommend eliminating damp areas around your property to reduce your risk of a silverfish pest infestation. You can invest in a dehumidifier or improve the ventilation in bathrooms and kitchens. In addition, silverfish gain entry to your property through small gaps, so it is crucial to seal cracks to minimise ingress points.