Speak to a pest control expert
Ant Pest Control
Have you found ants crawling everywhere, from your kitchen cabinets to your garden? Then you need the help of your local ant exterminators. From experience, we know how fast an ant infestation can spiral out of control, so we provide 100% guaranteed ant control services across London and the South East of England.
Why trust Integrum to solve your ant problem?
Emergency ant removal & control services
Same-day appointments available
Over 70 years of pest control experience
Certified by the BPCA & the RSPH
Treatments for tropical ant species
Local pest controllers across London
Free quotes with no obligation
Ant Removal Process
Are you tired of battling an ant infestation in your home or business? We understand how frustrating it can be, which is why we've developed a comprehensive process for treating ant infestations that gets results. Check it out below:
Step 1: Free Survey. We start every ant control treatment with a free survey to pinpoint the location of the ant nests and all affected areas. By understanding the root of the problem, we can create a targeted treatment plan that addresses the infestation effectively. During the survey, our friendly ant exterminators will be happy to answer any questions you have and provide you with a no-obligation quote for the treatment.
Step 2: Ant Control. We use a range of professional-grade ant control solutions, including ant gel baits and insecticidal sprays, to quickly and efficiently remove the infestation. Our experts will determine the most appropriate treatment type during the survey to ensure maximum effectiveness.
Step 3: Aftercare. After the treatment, we provide expert guidance to help prevent the infestation from returning. We're always available to answer your questions and address any concerns you may have. And if the problem persists, we'll return to your property to make it right.
If you're ready to say goodbye to ants for good, don't hesitate to reach out to our team at 0204 566 5522 or [email protected]. We're here to help!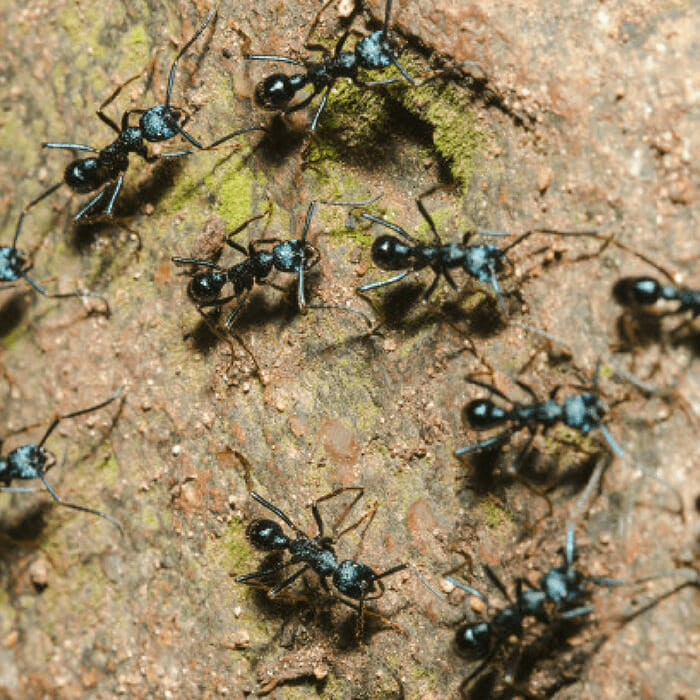 Signs of an Ant Infestation
To correctly identify if you have an ant infestation, you should look out for the following signs.
Visible ants: If you've noticed a trail of ants marching around your property, chances are you have an infestation. These little pests tend to travel in groups, so if you see one, there's likely to be many more.
Nesting sites: Ants will often build their nests in walls, floors, foundations, trees, gardens, and lawns. Keep an eye out for small piles of dirt, sand, or soil near cracks and crevices.
Damage to food: Ants are always on the lookout for food sources. They may gain access to plastic and cardboard packaging, leaving behind telltale signs of holes and bite marks.
If you've noticed any of these signs in your home or garden, don't hesitate to contact your local ant exterminator at 0204 566 5522. Our professional ant control treatments can quickly and effectively eliminate the infestation, so you can enjoy a pest-free environment once again.
Commercial Ant Control Services
If you operate a commercial building such as a pub, restaurant, hospital, office, hotel or anywhere that stores food, you must remove ants as soon as possible to keep your hygiene levels high. All our staff are BPCA certified and understand the habits and behaviours of ants. This training allows us to plan an effective strategy to control ants and keep your business's reputation strong.
Ants Frequently Asked Questions
Can pest control get rid of ants?

Yes, pest control companies like ourselves are trained in ant pest control. Unlike DIY products, we know the behaviour and habitats of ants and have a much higher chance of guaranteeing their removal.

What is the cost of ant control London?

Worried about the cost of getting rid of those pesky ants? Well, fear not! Our ant pest control service is affordable and effective. Prices start from just £72, including VAT, and we'll have those ants marching right out of your property in no time.

But wait, there's more! For those stubborn tropical ants, we offer a free survey to assess the extent of the infestation and provide you with a tailored quote.

How do I get rid of ants permanently?

While there are countless DIY ant elimination methods out there, the truth is that the only surefire way to get rid of these pesky pests for good is to call in the professionals.

Why do ants come into my home?

Ant nests are known to contain more than 100,000 worker ants. The queen has a primary role in building new nets and laying eggs, whereas forager ants are responsible for finding food and water. If forager ants find a food source in your home, they will lead other forager ants to the food using a pheromone trail resulting in many ants coming into your home.
Types of Ants in London
Ants are an incredibly diverse species, with many different types worldwide. Discover the ant species most likely to be causing you problems in London below:
Garden Ants
Garden ants are your stereotypical ants; they are found everywhere, from homes and gardens to businesses and pavements, taking advantage of any tiny crack they can find. They are black in colour, yet sometimes appear dark brown depending on the lighting. The worker-type garden ants typically measure up to 5mm long, whereas the Queen can grow up to 15mm long.
Flying Ants
Flying ants cause enormous problems for homes and businesses across London during summer. They are male garden ants who develop wings and emerge from the nest during the warmer day for an annual mating ritual.
Pharaoh Ants
The Pharaoh ant is a tropical ant that loves to live in warm environments like your insulated, heated home or business! They are smaller than a garden ant, with pharaoh ant workers measuring roughly 2-3mm long and the Queen approximately 4-6mm long. They are yellow in colour, with a slightly translucent body, black eyes and a dark abdomen. Pharaoh ants pose a particular challenge, as unlike garden ants with individual queens, they have multiple queens in their colonies.
Carpenter Ants
Carpenter ants are incredibly hard workers. They make their nests inside wooden structures and, unfortunately, cause extensive and sometimes irreparable damage as they do. They are black like garden ants; however, they are much larger, with workers measuring 6-12mm long and the Queen growing up to 20mm long on average.