As the population of the UK rises, unfortunately, so does the number of pests. Headlines with families suffering at the hands of giant rats or homes becoming infested with bed bugs seem to fill the news. But which locations are most at risk?
London pest control company Integrum Services wanted to understand which area has the most pest problems in the UK. To discover the answer, they uncovered the volume of searches for pest control services on Google per month per 100,000 people in each area; and the results may surprise you.
The top 17 most infested locations in the UK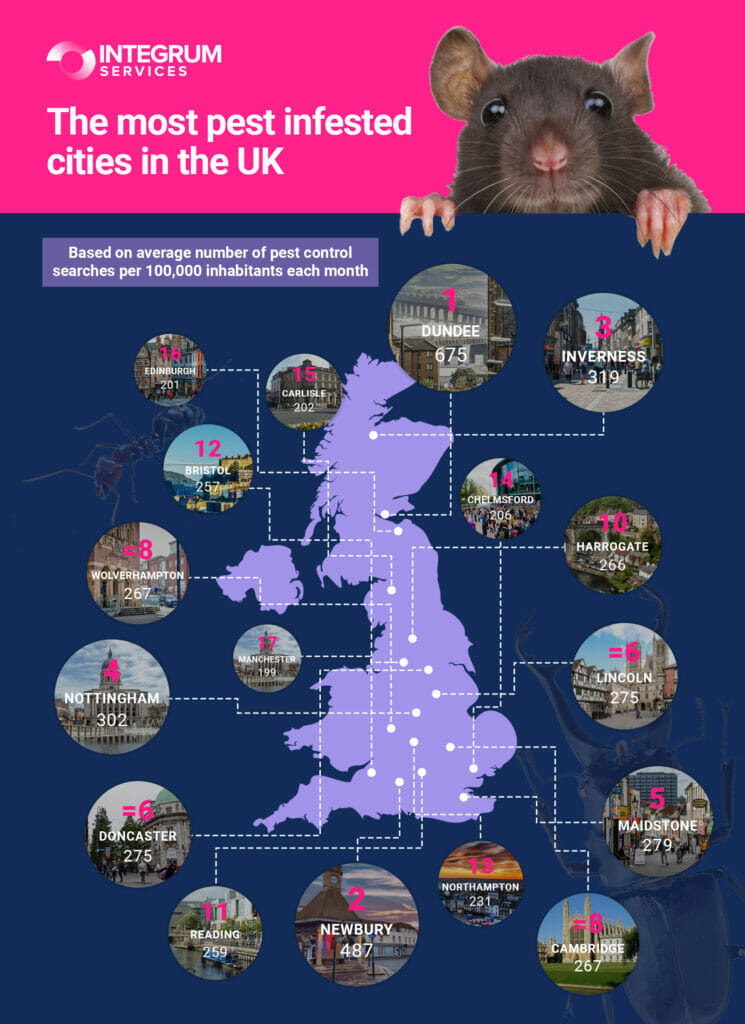 1. Dundee – 675 Searches
Your first thought for the number one spot on this list may have been London, so it comes as a shock to discover the number one most pest-ridden city in the UK is Dundee.
That's right, Scotland's fourth-largest and second most densely populated city comes in first as the most infested place to live. With an average of 675 pest control searches per 100,000 people – that's a lot of infestations.
Back in 2015, GQ Magazine named Dundee the "Coolest Little City in Britain". But, just a few years later, it's still reaching number one in lists, albeit for a much more negative reason.
2. Newbury – 487 Searches
The quaint market town of Newbury in Berkshire boasts idyllic views, historic landmarks and endless countryside. Unfortunately, however, it's also plagued with pest infestations.
Despite its small size, the town is home to over 40,000 people making it very densely populated. Consequently, smaller areas with a large population tend to be more prone to pest infestations.
This is because all pests, whether it's rats and mice, cockroaches or birds, require food, water and shelter; three things that are more readily available in populous areas.
With 487 pest control searches per 100,000 people per month, Newbury is, unfortunately, the second most pest-infested place in the UK.
3. Inverness – 319 Searches
Often described as the gateway to the Highlands and home to medieval ruins, Inverness is a popular tourist destination. However, it appears that the small size of the city, combined with a large number of occupants and tourists, has resulted in unwanted pests.
Inverness residents appear to be suffering at the hands of pest infestations, with an average of 319 monthly pest control searches per 100,000 people.
4. Nottingham – 302 Searches
Nottingham, the city in the heart of England with something for everyone – including rodents and insects! With a population of over 330,000 residents and new waves of University students each year, it's no wonder Nottingham has earned a spot on this list.
Forget Robin Hood; over 302 monthly pest control searches per 100,000 people puts Nottingham as the UK's fourth most infested city.
5. Maidstone – 279 Searches
Coming in fifth on the list of the most infested areas in the UK is Maidstone. The largest town in Kent has an average of 279 searches for pest control per 100,000 people each month.
Maidstone is known for being England's largest hops growing area, but could this be contributing to the number of pests in the town? Crops often contain many pests simply because they provide an easy source of food and water that insects rely on for survival.
= 6. Doncaster – 275 Searches
The town of Doncaster in Yorkshire has won countless awards over the years for its charm and character, and yet here it is earning itself the sixth position on this list of the most infested areas of the UK.
Famous for its racecourse and, of course, the football team Doncaster Rovers, many residents are having trouble with pest infestations. Doncaster residents collectively searched for pest control in their area 275 times per 100,000 people.
= 6. Lincoln – 275 Searches
Known for the medieval Cathedral and historical castle walls, Lincoln comes in joint place with Doncaster, with both having a monthly average of 275 pest control searches per 100,000 people.
This historic city is a place full of culture, yet the dense population and added pressure from students each year have resulted in a rise in pest infestations.
= 8. Wolverhampton – 267 Searches
The city of Wolverhampton boasts of a safe, clean and welcoming city that's steeped in culture and a place where the arts come alive. However, with an average of 267 pest control searches per month per 100,000 people, would the city's residents agree?
The population of Wolverhampton is estimated to be over 250,000 and continuing to grow. But, as we've learned, the more densely populated an area, the more likely you are to have pest problems.
= 8. Cambridge – 267 Searches
When you think of Cambridge, you most likely think of the grand historical buildings, the River Cam and, of course, the prestigious Universities, so it may be surprising to discover that Cambridge ranks so highly on this list.
The number of searches for pest control per 100,000 people matches that of Wolverhampton at 267 per month, making the city of Cambridge the eighth-most pest-infested area in the UK.
10. Harrogate – 266 Searches
Harrogate is a Victorian spa town located in North Yorkshire. It's a highly affluent area, home to more mineral springs than anywhere else in Europe.
Despite its picturesque appearance and rich history, the town ranks ten on the list of most infested areas in the UK, with 266 searches per month.
11. Reading – 259 Searches
Just missing out on the top ten, Reading comes in at number eleven. The large market town has a dense population and, being situated on the Thames, also has direct connections to the capital.
This, combined with the influx of thousands each year to the world-famous Reading festival, has resulted in a large number of pests in the town. Leaving residents searching for pest control an average of 259 times per month per 100,000 people.
12. Bristol – 257 Searches
The city of Bristol, situated in South West England, is a cultural hub known for its historic landmarks, rolling countryside and live music. But, behind the facade lays a severe pest problem plaguing the city.
Residents of Bristol appear to be suffering from pest infestations year-round, as identified by the 257 pest control searches per month per 100,000 people.
13. Northampton – 231 Searches
The town located in the East Midlands of England is unfortunately home to various pests. Northampton is made up of a mixture of densely populated streets and residencies, contrasted by endless grasslands and marshy wetlands.
Unfortunately, this mix is a disaster when it comes to pests. This combination has resulted in many pest problems, from rats to cockroaches, with Northampton residents making 231 searches per month in their area.
14. Chelmsford – 206 Searches
The wealthy city of Chelmsford is a surprising entry on this list of the most infested areas in the UK. Situated in the London commuter belt, Chelmsford is home to several celebrities and footballers.
However, the glitz and glam of Essex's only city is hiding a severe pest problem. An average of 206 searches for pest control in Chelmsford are made each month per 100,000 people.
15. Carlisle – 202 Searches
The city of Carlisle in Cumbria is located in the extreme north of North West England and is often referred to as the 'border city' between England and Scotland.
Despite its rural surroundings and gorgeous countryside, the city itself is incredibly densely populated, which has had a knock-on effect when it comes to pests. As a result, Carlisle comes in at 15th on the list, with an average monthly volume of 202 searches for pest control per 100,000 people.
16. Edinburgh – 201 Searches
As the capital of Scotland, it comes as no surprise that Edinburgh is on this list. Unfortunately, despite its cultural prominence and complex history, Edinburgh is home to many pests.
So many, in fact that an average of 201 residents per month per 100,000 people are on the lookout for a pest control service for their property. Pests don't acknowledge history and culture; they simply gravitate towards populated areas with available food, water and shelter.
17. Manchester – 199 Searches
Manchester is the most populous city in the North West of England, and unfortunately, because of this, it has earned its spot on the list of the most infested areas in the UK.
In recent years the world-famous city has experienced dramatic growth with help from rejuvenation projects and government funding. However, this has almost definitely affected the number of pests in the area.
Pest control in Manchester is searched on average 199 times per month, per 100,000 people, earning Manchester the seventeenth spot on this list.
Conclusions
For many people looking to relocate to a new city or town, exploring the increased chance of running into pests while living in the location can be a factor.
Rodents, insects, bugs and birds cause massive problems for people, and areas such as Dundee, Newbury and Inverness top the list of places in the UK that have extensive pest problems.
Methodology
Integrum Services conducted this research to identify the UK's most pest-infested cities. This study evaluates the number of searches for "pest control" in towns, cities and areas in the UK.
For each of the 127 towns and cities analysed, the criteria was based on the number of searches every month per 100,000 population.
To start, cities and towns were found using city mayors and cross-referenced against Statista data for the estimated population of UK cities.
For each location, the estimated monthly search volume on Google was used to calculate the average search volume per 100,000 population within each city or town. A threshold of 100 search volume was implemented to omit searches of lower significance.
*Search Volume Data was collected from Ahrefs between 14th and 18th March 2022.
The full dataset can be downloaded here.