Specialist Solar Panel Bird Proofing
10 Year Pigeon Proofing Solar Panel Guarantee
Solar panels have increased in popularity in recent years as the society in general moves towards a greener environment. The cost savings following the initial investment can be significant, with some of our clients, even reporting a generation of power from starlight!
As fantastic as this is, what the installers don't tell you is that by having solar panels fitted you have created a warm, safe harbourage for birds, especially feral pigeons. Unfortunately, once pigeons have identified this, they are unlikely to move on without human intervention. Therefore, pigeon proofing solar panels should be the main option to stop pesky birds.
Over time, pigeons can begin to multiple and can cause extensive damage to your solar panels, including the cabling/wiring and the panels themselves. This is due to the build-up of nesting material such as guano, and eggs which can pose a significant risk to health and safety. If you suspect pigeons are nesting under your solar panels, you need to call a pigeon solar panel proofing expert before they cause more damage and pose a significant risk to your health and safety.
At Integrum Services, pigeon proofing solar panels experts, we care about your health and well-being at home. We are pros when it comes to removing pigeons from under solar panels. With years of experience, we can even offer you a 10-year guarantee that pigeons won't get under your solar panels. Keep reading to learn more about your pigeon problem and what you can do to get rid off them.
Birds Nesting Under Your Solar Panels?
Health and safety are paramount when working at height. Especially with solar panel proofing, and where possible we will use our specially designed, HSE approved ladder and roof ladder harness system. The specialist ladders help us safely access your roof and carry out the work quickly and efficiently. Furthermore, solar panel bird proofing ladders give a clearance of 23cm beneath, keeping all weight away from direct contact with the array. We also have a full in-house rope access system available to use, but if this is not possible, we will advise you on the best access options to implement. Such as scaffolding or mobile elevated work platforms.
We only use the highest quality steel mesh to guard against pigeons. We place 25mm galvanised steel mesh around the sides of the solar panels to stop them pesky pigeons for good. It's recommended that you choose to use our non-intrusive solar panel mesh clips to fix everything in place. Although, we are open to using alternative methods when asked. Our experience in the field of pigeon solar panel proofing means that we can obtain equipment from industry-leading suppliers which offer only the finest quality materials.
All of our solar panel proofing installation team are fully qualified, British Pest Control Association members, with many years of experience in dealing with a variety of pest related issues.

We are also Checkatrade, Chas and EN 16636 Accredited, ISO 9001:2015 Certified, and a BPCA Member company.

Moreover, we are licensed by Natural England for the control of feral pigeons - fully insured with all certificates available on request.

Our specialist 25mm x 25mm solar panel pigeon proofing mesh comes galvanised as standard in gauge 16 - pre-cut to suit the height of a typical solar array. The mesh is the best type to use as it will stand up to the test of time and is made for this purpose. As opposed to inferior alternatives that are weaker and will rust quickly. The clips used to affix the mesh to the solar panel are non-intrusive, hooking under the base of the solar panel and are held in place with a retaining nut and washer. We obtain all of our materials in bulk, directly from the manufacturers meaning our costs are far more competitive than our competition. We are so confident in our products and installation techniques that we offer a 10-year guarantee on all work!
Project Gallery
Birds Are No Match For Our 10 Year Guarantee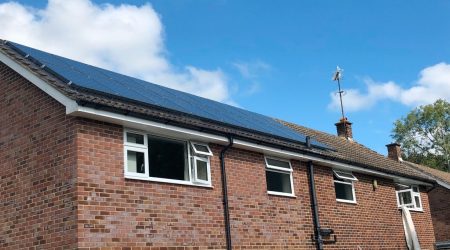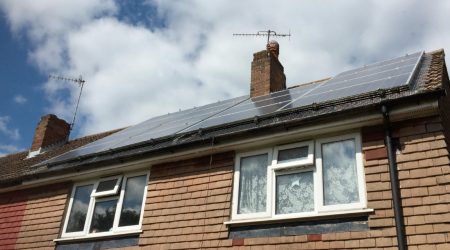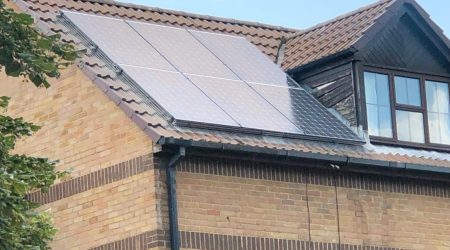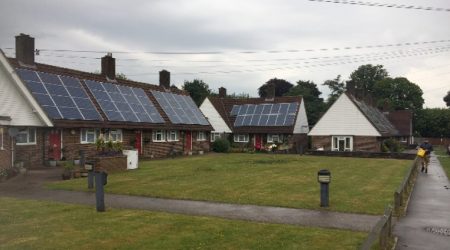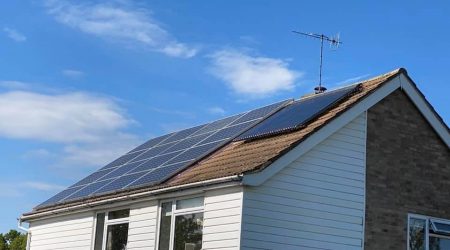 We only use the most effective ways of excluding birds from under your solar panel array. Our experienced team have completed pigeon solar panel proofing jobs all around Southern England and always make sure that no birds are left trapped under the panels. We sanitise the area, remove bird bulk fouling, and remove nesting materials as standard on all jobs. If overhead power lines directly feed your property, we will work with the relevant electricity distribution company to determine the safest way to complete the project.

The damage that birds such as pigeons can do to your solar investment can be tremendous and no amount of convincing will make them leave. The one thing that installers did not tell you is that once you install solar panels on your roof, pigeons will be attracted to them. We will discuss throughout this page some steps you can take to remove pigeons from under your solar panels and how much does it cost to pigeon proofing solar panels?

The bottom line is that pigeons like to nest under solar panels. Without proofing, they will not leave.
Let's Put Your Solar Panel Worries To Rest
Choose The Integrum Way
Frequently Asked Questions
Will my solar panels be cleaned when the proofing works are carried out?

Bulk fouling will be removed from under panels and the surfaces of the panels will be cleaned where required. We will also clear gutters under the arrays as standard and remove all waste from site. All contaminated areas will be treated with a biocide spray to eliminate any harmful pathogens.

Will pigeons persist on my property once the work is complete?

The birds will attempt to gain access to their previous nesting area for a short period of time but will leave for another suitable location once they realise that access has been blocked off.

Do I need to install spikes on my ridge tiles?

This tends to be purely based on your preference. We usually find that having the solar panels proofed is enough to do the job however we will happily provide you with additional options for either spikes or post & wire systems to be fitted in areas you wish to protect against bird activity. This is also a non-intrusive installation, with spikes being applied with a high strength adhesive while post and wire employ the use of ridge brackets or adhesive bases.

Are there other options beyond the 25mm galvanised mesh?

Yes. Although we recommend using our specialist mesh, of which we are the largest user in the UK, there are other options available such as solar guard spike systems and bird barriers. These options do tend to be more expensive however and do not offer the same guarantees. If you require an alternative mesh, we can provide the same grade in stainless steel, green, and black PVC coated.

Why should I use a pest control company?

We come across this question regularly and the recurring pattern is in the quality of materials and the method of fixing used by other industries that are not skilled in bird exclusion. There are vast differences between these trades and the pest control industry and we are simply better equipped and far more experienced in dealing with pest birds which means we know what works instead of just hoping for the best. We have carried out many projects where somebody has opted for a cheaper option, often with birds being removed illegally due to lack of knowledge, then still needed us further down the line to put things right, resulting in them paying twice for the work.

How much does it cost to pigeon proofing solar panels?

How much does it cost to Pigeon Proof Solar Panels? This question is down to the amount of damage that pigeons have caused to your solar panel investment. The cost of pigeon proofing solar panels also comes down to the ease of access to the area where the panels are located – and the number of panels that need to be pigeon proofed. The cost can increase if solar panels have been damaged as birds sitting on the wires could mean that they need to be replaced. Furthermore, if powerlines are over the house, we can work with the electricity company to find a safe way to access and complete the pigeon solar panel proofing job.



The overall cost of pigeon proofing solar panels comes down to the company you choose to use. Integrum Services has years of experience completing jobs around the south of England and birds are no match for our 10-year guarantee. Feel free to call us on 0208 914 7894 or contact us via our main solar panel proofing page.

Can you get rid of pigeons?

Yes, unlike many, we are fully licensed by Natural England to remove nests and control pigeons lawfully.

How can I pay for the work?

We can take credit or debit card payments, we can invoice you on completion, set up pay-by-link systems, and accept BACS payments. Any cash payments must be authorised by our office due to the risks associated with operatives carrying cash throughout the working day.

How Do You Remove Pigeons?

Pigeons can be controlled. If you notice pigeons nesting under your solar panels, you need to swing into action. Pigeons multiple quick and before you know it, they will be harder and more costly to remove. So how can you get rid of pigeons on your own? Here are a few measures to take.

Invest in plastic preditors.
Keep Your Yard and Garden Clean.

These measures may not get rid of any already existing pigeons. However, by being proactive, you can help reduce the likelihood of pigeons nesting under your solar panels in the long term.

Do pigeons nest under solar panels?

Yes, it's very common to have pigeons under solar panels. The odd pigeon or two won't cause any damage in the long run. However, if you have a group of pigeons that have decided your photovoltaic solar panels are a perfect nesting area, you'll need to call a pigeon proofing solar panels expert.