Professional Pest Control for London's Construction Sites
Are you creating a pre-construction plan or have you already started with a new construction build? Construction site pest control is often overlooked when it comes to construction sites for new homes, corporate buildings or general construction sites. The damage pests can cause to the structure of your building can be scary, and many places don't realise they need pest control before the problem is too late.
Site managers up and down the country should make themselves aware of the damage pests can cause, and be proactive in preventing it. Pests such as rats, mice and birds cause significant problems. They can seriously affect the health and safety of the staff who work on the site as they bring with them diseases which can cause considerable health implications. Furthermore, once sections are finished, we have often been contacted to pest-proof the finished area – taking projects over budget. Proofing could be in the form of bird netting or identifying pest entry points to treat. As mentioned before, the best approach is to be proactive and plan for pests from the very beginning – if you've already started construction, don't worry and keep on reading.
Need Pest Control For Your Construction Site?
Signs & Solutions For Your Construction Pest Problem
More often than not, the common construction site pest control issues tend to be birds. Our bird proofing plan can be implemented at the design phase of a construction site to make sure birds will never damage the finished structure. Pigeons, seagulls and other birds are known to roost from roofs, solar panels and window ledges; luckily we have years of experience preventing birds from buildings.
What are the main signs my construction site has a pest problem?
Damage to equipment: Birds and rodents such as squirrels, rats and mice all build nests – this makes constructions sites perfect. The abundance of material available such as wood, packaging, wire, pallets and insulation can all be used to build a home. So, if you notice damage to any of your materials, it's essential to contact a pest control company straight away.
Pest droppings: No matter what pest is causing pain for your construction site, you'll be able to notice droppings. Both rodent and bird droppings carry diseases with them. However, bird droppings (guano) can lastingly damage stone, wood and vehicle paintwork.
You'll see birds: Birds love construction sites. Well, birds love buildings in general. The high, covered buildings are ideal nesting areas. You should be able to notice birds gathering in numbers around the site when your workers start to finish. If you do see a large number returning in the evening, they're likely to be using your construction site as a nesting spot.
Construction Site Bird Proofing
Whether your construction site is in the pre or post-construction phase, our team of bird proofing experts can help propose a helpful bird and pest management plan. We've worked on projects on all sizes and have provided bird management plans for the likes of British Airways and the BBC.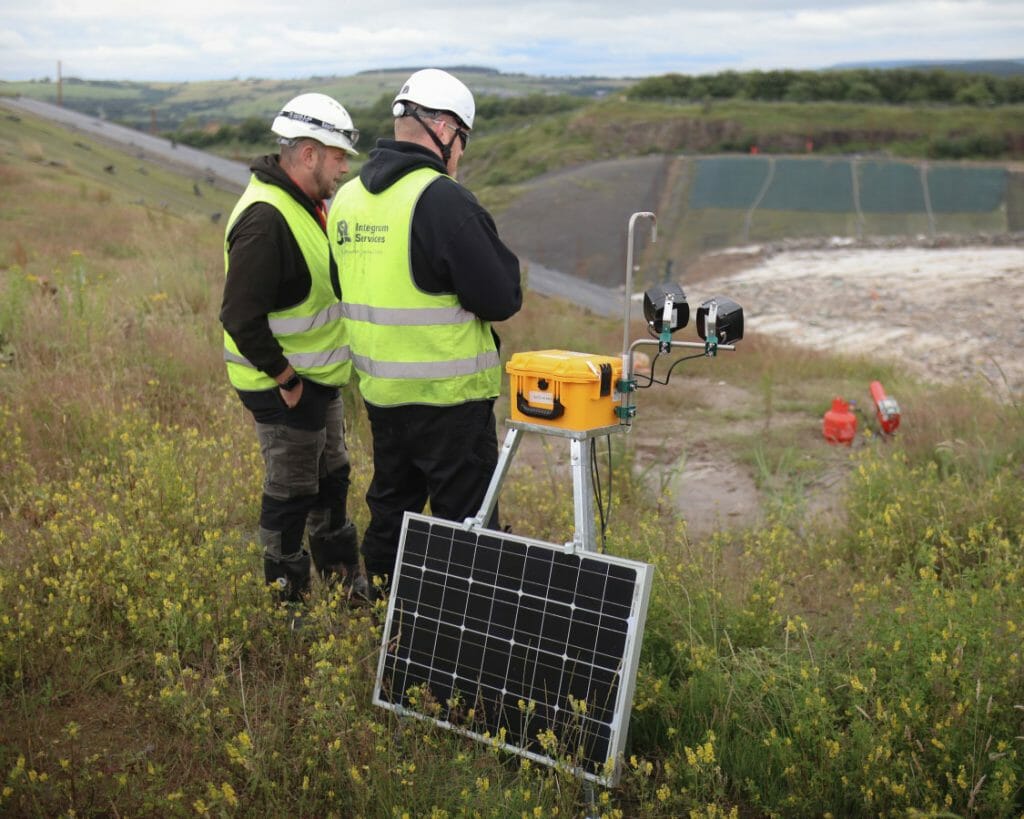 Bird proofing for construction sites can come in many forms, such as netting, spikes, optical gel and more recently our fantastic BirdAlert bioacoustic bird scarer.
We're fully accredited to carry out all bird-related work and are even licensed by Natural England for pigeon control. Therefore, you can place your trust in us to keep you within the law when removing birds.
Construction Site Pest Proofing
The design and architecture of any building should take into account pest minimisation and management options. More often than not, we see poorly built structures that have not made any thought of pests, and pest ingress and harbourage points are clear to see.
Construction site pest control for food premises is even more critical for food safety. Our experience with pest control on new construction sites can help prevent pest entry during the pre-construction phase. However, if the site is already built, then our team of experts can increase proofing, improve hygiene standards, as well as reduce or eradicate the pests that have gained access.
Bird Control
Please visit our bird proofing & control page to find out more of the bird related services we offer.
Pigeon Proofing Solar Panels
We only use the most effective ways of excluding birds from under your solar panels.
Bird Alert
BirdAlert, cutting edge Internet of Things (IoT) technology to detect
and scare birds.
Drone Surveys
Uncover any pest problems on site using our fully-licensed drone surveys.
Rabbit Control
Expert rabbit control solutions for all industries and domestic properties.
Woodworm Treatments
Woodworm infestations can cause extreme delays to projects. Keep your site woodworm-free with out treatments.
Frequently Asked Questions
Why choose Integrum Services?

Construction sites are perfect for pests as there are nesting material, standing water and plenty of places to set up shop. If you decide to leave the problem, it'll only cause more damage to the building structure and fixing these issues at a later date can put your construction project over budget.

How do you estimate construction costs for a project?

We estimate our pest control construction services by working with the site manager or architect to plan out an effective strategy. All construction sites and builds are different so to give an estimated cost we would need to work with your team at the pre-construction phase.

Why should I add pest control to my pre-construction plan?

It would help if you took proactive measures to protect your construction investment from pest and bird damage. The amount of money you will save by dealing with these issues at the very beginning is substantial as you can cost and budget appropriately.

What are your construction bird proofing methods?



Bird Spikes


Bird Netting


Post and Wire


Bird Free Optical Gel


Bird Electric Track


Bioacoustics (Bird Alert)



What are your construction pest proofing methods?



Wire Wool


Aluminum Plate


Bristle Strip


Galvanised Mesh


Foam


PVC Sheet