Expert Bird Proofing Services in London
Birds can cause significant damage to your business. The main culprits are pigeons and seagulls as they are known to make a large quantity of mess, damage roofing, block drainage and carry with them significant health and safety risks. If your business's liability is at risk due to pest birds, then you should seek out our bird proofing or bird pest control services.
There are many studies that link bird droppings to diseases, and it has been suggested that there are over 60 diseases that birds can spread with their droppings. The health and safety risk alone is a reason to protect your business, customers and staff with bird pest control and specialist cleaning services.
With the significant risks posed by birds such as pigeons and seagulls, you want a brand that you can trust! Integrum Services has over 20 years of experience delivering bird proofing solutions to commercial and domestic clients across the UK. From small cleanups to bird netting airport terminals at Gatwick and Heathrow in London – we are capable of the highest quality bird control services and bird proofing measures. All of our staff are fully qualified with the British Pest Control Association, fully insured, and trained in all aspects of bird pest control.​
Bird pest control is entirely different for every situation – pest birds damage buildings in different ways. Therefore, before any bird control measures are undertaken, we carry out a full site survey where required to allow us to offer the best bird proofing solutions. Don't worry; all our investigations are free of charge.
We also offer fully-licensed drone surveys; conducting a full investigation of your site or property. This allows us to discover all existing pest problems before constructing a bespoke treatment plan.
Do You Have A Bird Problem?
Our Bird Proofing Solutions
As mentioned previously, there are many ways in which birds can cause damage to your building. They are loud, carry diseases, spread mess and give an overall bad reputation to your business. The likelihood of such issues also increases during bird nesting season.
Bird proofing and bird control are two different approaches to take with birds. Depending on your situation, we will use a different approach to make sure the birds are out of your hair for good. Our years of experience in dealing with pest birds has allowed us to build a vast amount of knowledge in bird proofing solutions, such as bird spikes, bird netting, post & wire, optical gel, electric track and bioacoustics (bird-alert). All our bird pest control measures are carried out with minimum disturbance to your everyday business.
Bird Deterrent Spikes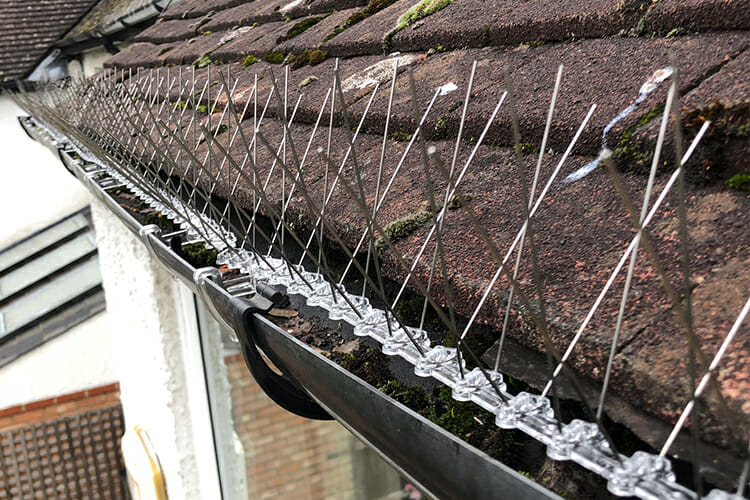 Bird spikes can be installed along building ledges where pest birds perch or nest. Spikes are used, preventing and deterring the birds from landing in the area. Bird spikes are ideal in areas of low to moderate pressure and can be fixed in place using high strength adhesives. Bird spikes are available in multiple heights and widths to suit the area in question. Overall, spikes are very effective at keeping pest birds such as pigeons and seagulls away, but can be unsightly and are not always to everyone's taste.
Bird Netting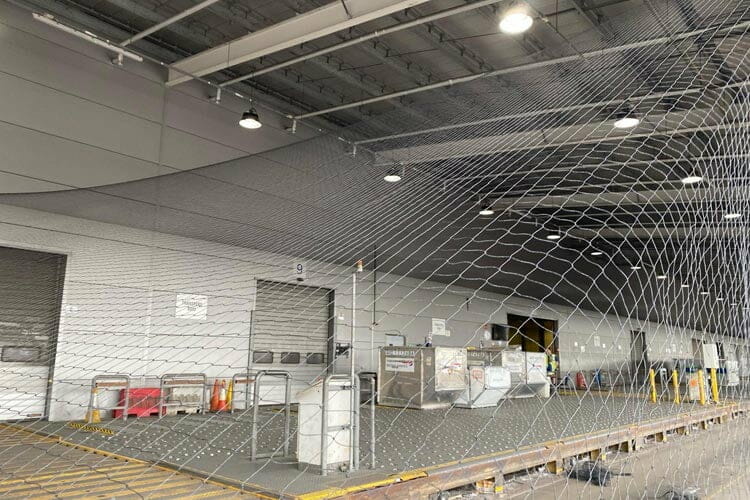 Bird netting is the most commonly installed bird proofing measure available. Bird nets can be manufactured or cut to any size and are available in a variety of gauges and colours depending on the pest bird in question. There is a wide range of mounting brackets and fixings on offer. Therefore, bird netting can be designed and installed in almost any situation where pest birds are present. The nets themselves are very UV resistant and can be expected to last for ten years or more. Various other options such as zips and net clips can be installed if required to allow access to the excluded area for maintenance and inspection purposes.
Post And Wire Bird Deterrent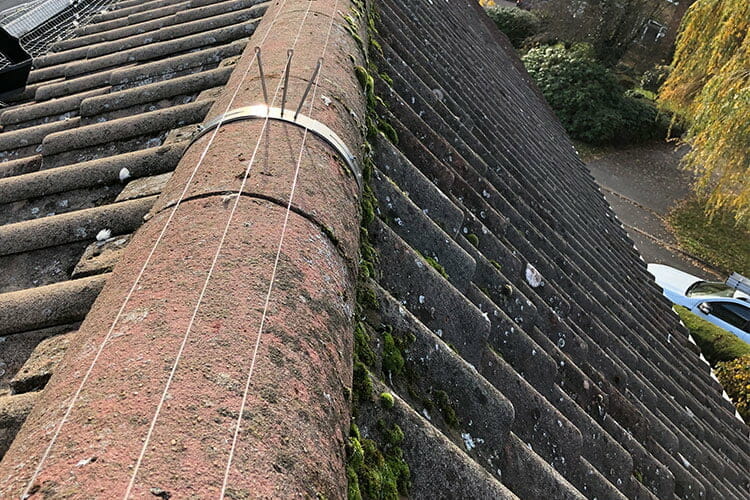 Post and wire is an ideal solution in low-pressure situations. Metal posts are drilled into place or fixed in adhesive mounts along the area in need of bird pest control. Small plastic-coated wires are passed through and held in place using small tension springs. Post and wire bird deterrent is a very discreet bird control measure and can be installed along almost any area from window ledges to ridge tiles.
Bird Free Optical Gel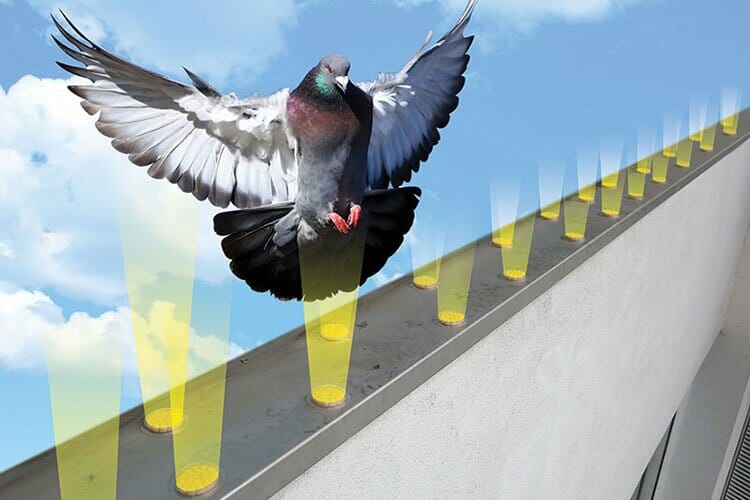 Bird free optical gel is a relatively new product. Bird free optical gel is applied to small UV resistant dishes that are held in place by a high strength adhesive. The optical gel is placed along leading edges as a bird control measure to deter pest birds such as pigeons and seagulls. The gel harbours potent visual and olfactory effects that are very effective at keeping birds away. The product is non-toxic and can be expected to remain active for two years before a replacement would need to be considered.
Avishock Electric Track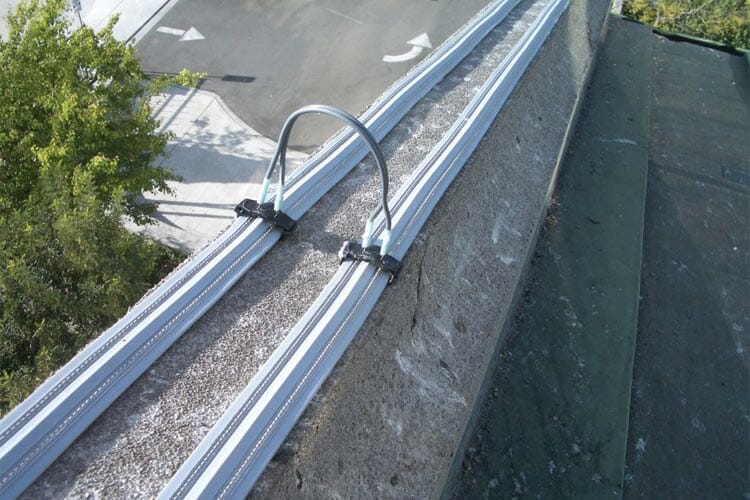 Avishock Electric Track is a safe option that requires a bespoke design for every installation. The track is fixed in place along the area being threatened by pest birds. It is connected to a powered energiser unit that sends an electrical current around the whole circuit, emitting a small shock to any birds that land on the system. Bird electric track is a very effective way of keeping high-risk areas free of bird activity when a minimalist approach is required.
Bioacoustics (Bird Alert)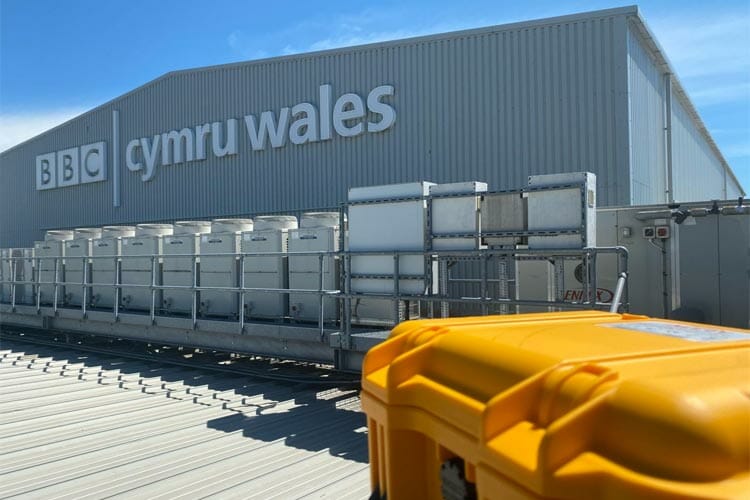 BirdAlert is cutting edge Internet of Things (IoT) technology to detect and scare pest birds. BirdAlert monitors your site 24/7 using an advanced microphone system. When BirdAlert registers a specific nuisance bird in the area – it activates using one of the five input options. The recommended speakers have proven to be very useful, as they use a built-in library of distress calls targeted towards the particular species.
Sussex Schools Solar Panels
Sussex schools came to Integrum asking for help with birds nesting under their solar panels. Integrum assisted with a collaborative project involving Portsmouth City Council and Sussex County Council - bird proofing 150 panels across two buildings. We prevented birds from gaining access to the panels using our unique bird proofing mesh.
Brunel University
Brunel university came to Integrum asking for help with birds nesting on ledges. Bird droppings are an issue due to the health risks posed to students attending the university. Integrum installed spikes and a large net to stop birds from visiting the site. Birds are no longer an issue for Brunel university.
British Airways
Over the years, we have worked alongside fantastic aviation clients such as British Airways. Providing bird netting for airport hangers is essential to keep the business operational and free of bird liabilities. The forward-thinking company have used our services at both Heathrow and Gatwick airports.
Frequently Asked Questions
What is the best bird repellent?

Customers often ask us what the best bird repellent is. Unfortunately, we can not give a definitive answer as every situation requires a different bird control measure. Bird netting & bird spikes are the most popular methods. However, newer options, such as BirdAlert, are challenging the norms of bird control.

How do you control birds?

Methods to control birds include some of the options listed further up on this page, such as bird netting, bird spikes, optical gel, bioacoustics, electric track, post and wire.

What noise will scare birds away?

Bird scarers are becoming more popular, especially with the rise of new cutting edge technology such as BirdAlert. In theory, noises such as distress calls tend to work in scaring birds away from an area. However, if that option does not work, we have found gas cannons extremely useful.

Is bird netting safe?

If constructed incorrectly, birds can become trapped and caught inside of nets. It has been known that poor installers have left gaps for smaller birds to regain access and become trapped. Fortunately, Integrum has years of experience in bird proofing and using bird nets - so you have nothing to worry about.

What areas do you provide bird proofing?